Three months in England. Wow. Is that for real? Yes, I am on my way to my third month in England and sadly, I am scheduled to leave soon. I am having mixed emotions right now. Remember my blog entry about my travel jitters prior to my trip here? Ironically, I am going through the same thing. Now I call it 'Homecoming Jitters'.
Some of my mom's friends told me that I should not go here in United Kingdom on a Winter because of the weather. Guess what? They were right! My body is not used to the very, very, very cold weather and I needed to adjust asap. Now I know that Gloves, Boots, Scarfs and Warmers are not being used for fashion purposes only. It is a necessity. It is not even enough to keep your body warm especially last December. I ended up getting colds after playing with the snow when I was in Cardiff, Wales. I literally rolled on the snowed floor in a public park. That resulted to my home arrest for two weeks.
I already have scheduled trips for the third week of March and that requires me to go under the sun – something that i really love doing. I love my beloved countries' tourist destinations and in fact, I quite convinced some friends to visit the country soon. Sudden twist of events might deprive me from pushing through with the scheduled trips, but i dunno. I might just go. I just hope that my body will manage to really cope up with the sudden placement in summer mode Asian version.
Before I left the Philippines, I often told my friends that I'd still choose to work in my country. Now, I am open to working abroad specifically here in the United Kingdom. The problem is i am not yet sure on what is my next career path. I talked to my cousin in London and we had a one-on-one talk. I am going back to the Philippines in a clean state – I must start anew. To go freelance or go corporate again? Freelance is something that I always wanted to do since that means I am still in-charge with my own schedule. The uncertainty of projects and income is the thing that bothers me especially now that I also need to consider my family. I am turning twenty four in a couple of months and I can't afford to just feed myself. Getting into the corporate setting might also be something that will make me rich (after 48 years LOL), but I would rather go corporate in London. I still have enough time to just sit down and re-evaluate everything. I need to weigh the pros and cons. Yeah, i need more money. That will be my driving force just in case i go corporate again.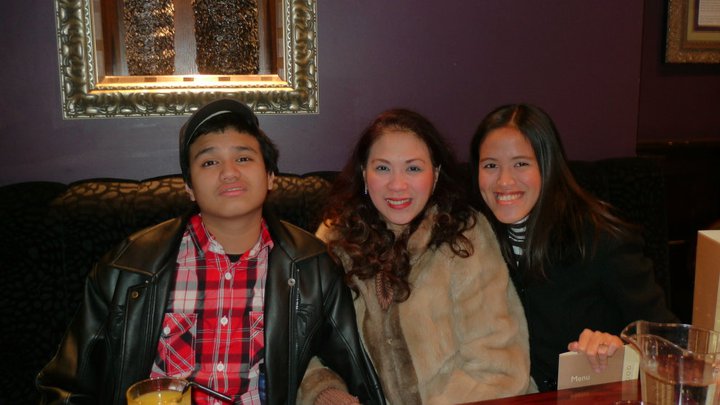 I am happy to see that my mom and my brother are doing well here. Who would have thought that one day, they can stand on their own? I am sure my dad is also here with us because i can feel him. Actually, i can see his face whenever i look at my brother – or when i look in the mirror because i look like him 😛 I can't help but feel frustrated at times though since in two years time, my brother will be entering in a college for special children. He will go on a dormitory for a few years where he can also practice his independence. I will feel really bad if i don't get to see him before he goes there. It's like missing another stage in my brother's life.
Our perspective in certain things can change in just one click. All of a sudden, I see myself moving in here. I would like to help my mom by working for the payment of the bills, but I cannot afford that for now. Someday, I will. I want to give her a grand vacation because she truly deserves it while I am always on vacation but I don't really feel guilty about it. I do believe that one should invest in traveling. It's like investing on more lessons and experience.
I like London. I consider it as my favorite city. It has a number of historical sites (I haven't visit half of it!) and the equality within people with mixed races in different aspects. Thanks to my cousin who introduced me to some of her friends. Walking around the unique city of London will make you realize a lot of things – From the time I crossed the bridge to my cruise to River Thames to the Underground Train incident (getting stuck there for 20 minutes on a Friday rush hour time isn't lovely LOL), carefree entertainers on the streets, normal public display of attention (I even saw two girls making out on the street when all of a sudden, a fire truck passed by and they freaked out LOL), self-discipline (crossing the street when the yellow light is on depicts so much about their people) and working hard for the money. If i have enough time, I will blog about my personal thoughts on it. London is lovely except for its expensive cost of living.
The biggest thing that I learned from my stay here in England is Enjoying. To be honest, I haven't taken much pictures as compared to my previous trips within the Philippines. Enjoying your stay to the fullest especially with my family and with the people who matters to me now.
Meeting someone whom I eventually likED is something that I didn't really plan at all. I saw the movies TanglED, A Little Bit of Heaven and The Fighter with one person. I likED all films but of course, his presence is a big factor. I did really appreciate how our differences made our time together interesting. His towering height, sense of humor, quiet but sweet side, simplicity and real persona made me like him more. I am not really sure if publishing this part will make a difference, but i remember promising to him that i will blog about him soon no matter what. Remember how you frequently asked me if i blogged or worked on my script? Then I replied that I cannot write effectively when I am happy. Then you told me that you feel that i'd rather choose to be happy than write LOL. I have no regrets even if I am quite unsure on where this thing leads to. I am hoping that things will be better for the both of us as we face our respective worlds. Always remember that you will be missED. I have no regrets and i hope it is mutual. You will always be rememberED.
I am looking forward to going home, but i'd be honest here. I will really miss my mom and my brother. Feeling their love and support is something i do treasure. I will miss my mom especially my brother Carlo. I will miss our daily routines 😐 I will also miss ate Virgie, who made sure that I eat the best dishes everytime. The new friends I met – i love you all. See you all soon!
What will happen to me once I step back to the Philippines? Starting in a blank state is quite a challenge, but i am up for it. New job opportunities? Will i move in another place? Will priorities be a bit different now? Just wait and see.
PS: I'll be back.