Archive for the 'Recognitions' Category
The 2009 Philippine Blog Awards (Luzon) was held at PETA-PHINMA Theatre last Friday, October 9. I went to the venue straight from the office and got the chance to go around and meet some old and new faces in the blogosphere.
First and foremost, I would like to thank everyone who took time and voted for Micamyx.com as their choice for the Bloggers' Choice! Honestly, I was a bit hesitant when I received a nomination from three people for the Personal category. Unfortunately, IÂ  failed to enter the final list 😛 I received another nomination for the Bloggers' Choice award and upon reading the requirement which is to make a post indicating your intention, I decided to give it a try. There's no harm in trying, right? And your co-bloggers will be the ones to judge this time and yes, I really want to win =)
More than a week after the Digital Filipino Club and Bloggers Manila Networking Night , Ms. Janette Toral once again organized an event where e-commerce websites were recognized.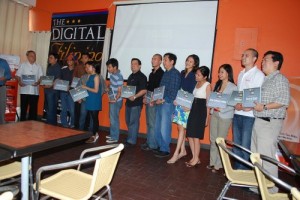 The 2nd Digital Filipino Web Awards was held yesterday, November 5, 2008 at Taste Asia, Mall of Asia. I went there with my officemates Rona Ayeras, Emmerson Barrion and Yza Urgel. We went there early and enjoyed the food hehe 😀
Then representatives from different companies and bloggers started coming in. Bitstop and Cashsense were the main sponsors of the event.
I was able to attend the two-day workshop on Website Evaluation and learned a lot from it (will post an entry about it soon). I am really happy to be a part of a great project 🙂
The news that made me happy is that The Belo Medical Group Blog won in the Corporate Blog Category. It was explained by Miss Janette that though the blog is just a month old, we were able to update the blog with news that are connected with the services, procedures, tv appearances and promos related to Belo. I would also like to take this opportunity to the bloggers who helped us promote the corporate blog and our newly-revamped website. 🙂