Star Cinema is definitely the main source of Pinoy RomComs with English titles inspired by old songs revived by a local singer. Like its title and theme song, the concept of 'Maybe This Time' is not new. There's the probinsyano meets kolehiyala angle where the two end up falling for each other only to be separated by someone's intervention. Years later, they meet again. Maybe this time they'll be a couple once and for all… Maybe This Time.
Ate Lenny is a big Coco Martin fan that's why I've decided to treat her for a movie night on the first night of showing. This better be good!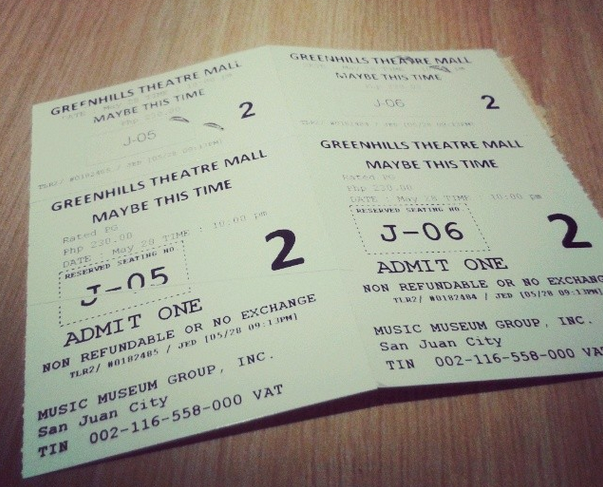 I didn't expect much from this movie, which is a good thing. We all know that Sarah Geronimo is the RomCom Queen of Philippine Movies (sorry Toni Gonzaga!) and we just love her antics. Coco Martin is a respected teleserye actor, but his timing in comedy is yet to be tested.
Years ago, Sarah Geronimo teamed up with Sam Milby and Coco Martin for the musicserye '1dol'. Can't remember the show? Well, that project is considered a flop. Although the series was gearing for Sam-Sarah, I just didn't expect that a Coco-Sarah movie project will be possible. Coco's first romcom attempt with Angeline Quinto was blah.
Sometime in 2012, Regal announced that Coco Martin and Marian Rivera will collaborate in a movie project for the first time via the project tentatively titled 'Maybe This Time'. For some reason, the project was shelved. I'm not sure if it has the same concept as with this one, but you cannot blame me if at first I was imagining Marian Rivera portraying the role of Steph.
The opening scene which involved dancing may be corny, but the right kind of corny. It is refreshing to watch Coco Martin let loose and be comedic one and for all. Obviously, the character of Tonyo is tailor-made for him. His imperfections became his biggest asset in the film. His character is the typical romantikong probinsyano who will do everything to win your heart. Some of his scenes reminded me of someone Haha 😀
On the other hand, Steph (Sarah Geronimo) is a hopeless romantic kolehiyala who went to the province to teach english. She fell in love with the gutsy Tonyo but had her heart broken when he didn't show up in their special place. Seven years later, Steph is now a PR girl  aiming for an elusive promotion. Her monster boss Monica (played by Ruffa Gutierrez) gave her a make or break project to work on. It turned out that Monica is the new girlfriend of the now-rich Tonyo.
I won't give out too much spoilers, but let's just say that Maybe This Time is the right project for a Coco-Sarah team-up. The movie provided the usual rom-com ingredients – kilig scenes, beautiful sceneries, an unlovable antagonist, the gay sidekick, rags to riches story, quotable quotes, family interventions and more corny scenes. I didn't really expect to like this film because they appeared natural onscreen. Hindi pilit. Aside from the lead stars, I can say that Ogie Diaz made this movie funnier with the way he delivered his lines.
'Maybe This Time' is a feel-good film that will make you laugh and reminisce your idealistic, romantic ways. Yep, girls will get that feeling.