Vice Ganda, Luis Manzano and Toni Gonzaga are the three versatile artists of ABS-CBN. The three of them are competitive as host, comedians and product endorsers.
Put them together in one movie and it will surely be a hit. Just last Wednesday, my friend Maire and I saw the new comedy flick 'This Guy's In Love With You Mare' under the direction of Wenn V. Deramas.  When I first saw the trailer during the screening of The Mistress, I just knew that I need to watch the film once it is out. I think Toni Gonzaga is our Pinay Cameron Diaz and she is simply the ideal romance-comedy leading lady. I even thought that if My Sassy Girl will have its Philippine version, Toni is the best to play 'the girl'.
Anyway, Here's my own review of This Guy's In Love With You Mare:

This Guy's In Love With You Mareis an twisted love triangle story. Lester (Vice Ganda) and Mike (Luis Manzano) were in a relationship for a long time. In fact, Lester paid for Mike's college tuition and even supported his family. On their third year anniversary dinner, Lester was expecting Mike to propose to him. Unfortunately, the opposite happened. Mike broke up with Lester due to religious purposes. Heartbroken, Lester tried to end his life countless times.
Lester stalks Mike, only to find out that the boytoy is in a relationship with a girl named Gemma (Toni Gonzaga) for a year and he even proposed to her. Gemma's family is against Mike because they feel that Mike is not yet ready financially.
Determined to win his ex-boyfie back, Lester planned to ruin the engagement by wooing Gemma. For a time, Gemma got confused. I will not tell the whole story as it may spoil your viewing pleasure.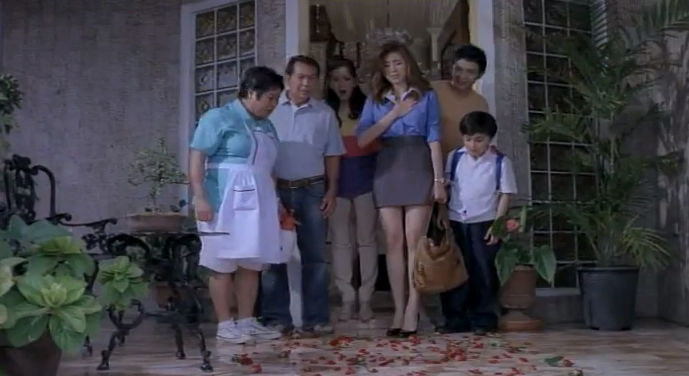 Since this is a Wenn Deramas film, it is already expected that this is a comedy film for the masa. Comedy films are meant to make people laugh anyway and again, he succeeded. Don't mind the haters. Chos.
I love how they added Gemma's fascination for Aegis and April Boy Regino here. Reminds me of the first time I saw the Aegis perform live in Puerto Princesa two years ago.That part where Toni cried because of the concert made me really smile. I really appreciate it whenever someone brings me to a concert of an artist I am a big fan of. Hindi siya kababawan. It means a lot to a girl.
I love the fight scene of Vice Ganda vs. the Robbers (which turned out to be his four gay friends) with Darna as their peg.
There's a funny spoof of No Other Woman and The Mistress in this movie which made majority of the audience laugh.
Gemma is truly a nice and lovable woman. She deserves to be happy.
The support characters were great, but the film can stand on its own even if DJ Durano is out of the picture.
I love Toni Gonzaga's clothes in the film. Luis Manzano is also cute in here, which made Maire giggle a lot of times.
Sam Milby plays a special role here *spoiler sorry na  LOL*
Biggest Lesson: Don't Ever Play with a Girl's Heart. It is not right. If you're gay, please do not court a woman just to show to the public that you're a 'straight' guy. A woman doesn't deserve to be treated that way. It's just not fair especially if she's sincere with her feelings.
The part where Gemma found out the truth is my favorite scene. I can feel her pain and how hurt she is. Toni Gonzaga portrayed her role well.
All in all, I can say that This Guy's In Love With You Mare is a feel-good film. I think this movie deserves to earn more compared to last year's Praybeyt Benjamin.
Have you seen this movie? What can you say? Share your thoughts below =)