"I want to communicate through my music. If you want to know Geri Halliwell listen to my album: it tells you more about me than a documentary ever could." – Geri Halliwell
Geri Halliwell once owned the title 'Queen of British Pop'. As the most prominent member of the Spice Girls, a lot of fans and detractors were wondering what will be her next move after quitting the most successful girl band in history. I have to say that Geri is my second favorite Spice Girl and I sincerely love her so much. If there's one thing that I admire from her, it is her determination to succeed.
Last week, I was in Baguio City for The 2nd Baguio Blog Conference. I brought the book If Only by Geri Halliwell. I hoarded a number of books on eBay when I was in the UK and I got my own copy for one pound. When the book was first released in 1999, it has been a dream of mine to attend a book signing. She may have visited the Philippines for an advocacy, but I never had the chance to meet her in person. Getting a copy of this book is a big deal to me. Read my 'How Geri Halliwell Broke My Heart' too!
'Schizophonic' is the first solo album effort of Geri Halliwell. I remember that moment when I went to the biggest music store in Dagupan City and found a cassette tape copy at the Best-Sellers section. I grabbed a copy and excitedly paid at the counter. I opened it right away and asked my father if I can play the record at the car. Fun times!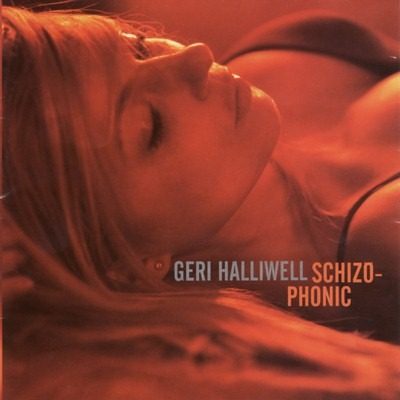 The album contains 10 original tracks. If you are a solid Spice Girls fan, you'd notice how the track listing for the albums 'Spice' and 'Spice World' are arranged. It seems that Geri Halliwell applied the same strategy. Her album is a big treat for pop fans. She was able to showcase her capabilities as a songwriter and the variation of musical influence makes it a must-have album for pop lovers.
Way back in high school, I wrote my own review of every track in the Schizophonic album. I didn't have my own weblog then, so I posted my thoughts on one of the Spice Girls groups on Yahoo. If you're a Geri fanatic, play the Schizophonic album and let's reminisce!
LOOK AT ME
What you see ain't what you are getting
Big make-up, Little break-up
Old feeling, new beginning

Superficial expectations.
I'm a drama queen if that's your thing, baby
I can even do reality
Strong lyrics, huh? For me, Geri Galliwell is the main force on why the Spice Girls were able to produce a very powerful output on their first album. Being the oldest and most ambitious member of the band, she was able to motivate the other girls to do better. I can't help but applaud to Geri Halliwell's marketing tactics. I love the video of the song, but it did really break my heart when 'Geri killed Ginger'. Looking back, I was really devastated with Geri's departure from the band. You broke my heart, Geri. You did.
LIFT ME UP
Watch the first line,
Kiss the new world
It's a wonder, baby like you and I.
I was busy downloading screen captures of the music video on my pink diskette when I felt something weird that Friday morning. I rushed back home and the next day, I found myself lying in a hospital bed. I loved the concept of the video and I find it really sweet. For a while, this song became my soundtrack whenever I feel down and need to lift my spirit up.
WALKAWAY
Walkaway this time, nothing left to hide
Walkaway, just me and myself.
Walkaway this time,
But it just feels right to be one.. and just walkaway
This song best describes her departure from the Spice Girls. Though she didn't openly admit it at first, Geri really wants to go on her own, at her own terms. She was meant to leave the group on September 1998, but then she simply couldn't wait so she left on May.
MI CHICO LATINO
Take me back to my sweet la vida
Find my love, my dolce vita..
Geri loves her mother so much. She mentioned that she's proud of her Spanish roots that's why she wrote a track that showcases her inner espanyola. This sweet song with a sexy video became one of the most recognizable pop songs in that genre. It reminds me a bit of Madonna's La Isla Bonita and Christina Aguilera's Infatuation. I pinpoint Mi Chico Latino as her most popular song.
GOODNIGHT KISS
So baby tonight I might let you in
No need to fight, I'm yours so let's begin
The sexiest track in the album. I imagine a jazz singer from the 1920's singing this song as she tries to seduce a willing audience. The sex appeal of this song oozes up to the point that a twelve year old fan suddenly pictured something R+18.
BAG IT UP
All we need is a little respect

Coz men are from venus and girls are from mars!
Treat him like a lady, treat him like a lady…
BAG IT UP became a gay anthem during that time. The music video for Bag it Up is one of the gayest pop videos of all time. It shows how the opposite sex clash at times and the dance routine towards the end is my favorite twist. Thanks to Girl Powder! *Winks*. Pop fans loved Geri's performance for the Brit Awards. Woah, Woah, Woah, Woah!
SOMETIME
Give me hope, in life I pray
It's good when I'm bad, I'm sorry to say
When I feel you inside, deep within me
I'll find peace of mind, somehow
A sincere song with contradicting melodies. More of like 'love me in my sweetest and my worst times'. I want that.
SOMEONE'S WATCHING OVER ME
You said I'd always be your little girl.
Thought that would last forever.
But you left me in this grown up world.
I had to put myself together.

At the end of the day.
You showed me the way.
I'm never in doubt.

You left a girl with a hungry mind
I'm still learning, I'm still waiting
All of the answers I need to find..
Geri is a certified Daddy's Girl. She was born when her dad was already in his fifties. In her autobiography, she said some realistic comments regarding her father's influence to her. I can actually relate to her in this part (not on the age gap!). My dad is a big influence to me. We may have a number of misunderstandings, but I will never forget how he was as a father. He passed away when he was forty years old. I was seventeen.
LET ME LOVE YOU
Hey little girl with those big blue eyes
You know what you're doing, you're so grown up
I watch you grind the little nut you're screwing
When I listened to this track way back, I took it literally – what nuts? NOW I KNOW 😛
This song is about sexual exploration. Nuff said.
YOU'RE IN A BUBBLE
Big mouth, big money.
You bitch, you ain't that funny
Got somethin' to burn
And love to waste
It's a social climb,
To big bad taste

Rich bitch, sugar daddies
Whizz kids, city boys
Jet setting, go getting with grown-up toys
Heart-breakin', money making
Earth-quaking, love faking
Where's your heart.
Did you sell that too?
I point this song as her most thought-provoking track. Add the fact that the melody gives you a tricky feel, almost close to bullying.
I sincerely miss Geri Halliwell – Ginger Spice or Geraldine. I also have a copy of 'Scream if you Wanna Go Faster' and 'Passion'. Motherhood truly made her change priorities, but I'm glad she was able to write and perform these songs. She is set to appear in The X Factor Australia replacing Melanie B as one of the judges. Gah. If I were Australian, I will perform one of her songs as my audition piece! She also confirmed that she's currently working on her fourth long-delayed album. Geri, it's about time! We miss you loads! British Pop needs you! <3