Yesterday, I received a text message from a friend informing me about Michael Jackson's death. I originally thought it was a hoax not until I went online and read the post from Showbiz Gossips that indeed, the King of Pop passed away. It's no gossip. It's a fact that really made the whole world sad.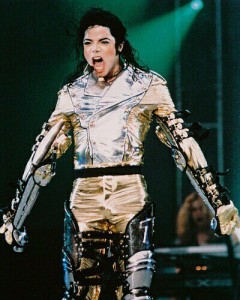 With a father working as a disc jockey and a mom who is a graceful dancer, I grew up listening to the songs of Madonna, Janet and of course, Michael Jackson. Please let me share to you how Michael Jackson's songs inspired and influenced me as a kid.
Read Ten of My Most Memorable Michael Jackson songs. Beware of the heavy videos though 😀
1. Heal The World
Make It A Better Place
For You And For Me
And The Entire Human Race
There Are People Dying
If You Care Enough
For The Living
Make A Better Place
For You And For Me
When I was still in Junior Casa, we were asked to do an interpretative dance for graduation with the song Heal The World. I remember playing the role of the fairy on that presentation LOL. Since 1991 is the Channel V and MTV era, I seldom saw the music video of the song. I even told my dad that I wanted to be a doctor when I grow up. Obviously, it didn't happen LOL.
2. I Just Can't Stop Loving You
We can change all the world tomorrow
We can sing songs of yesterday
I can say hey, farewell to sorrow
This is my life and i want to stay for always
As certified MJ fanatic, my father had his own Michael Jackson cassette tape collection. It is separated from his Beatles rack. One day, he surprised mom for dinner and as the accomplice, I played this song when she arrived home from work. I think they were celebrating their anniversary or maybe my dad had to make up due to an argument a night before haha.
3. You Are Not Alone
Another day has gone
I'm still all alone
How could this be
You're not here with me
You never said goodbye
Someone tell me why
Did you have to go
And leave my world so cold
I remember a friend from elementary dedicating this song to me when she was about to transfer to another school. Since we were really close, I really cried. The next day, she gave me a blank tape which she asked her mom to have it recorded at a radio station. One of the songs included in the blank tape is this Michael Jackson hit. Also included are other friendship songs.
4. They Don't Care About Us
Skin head, dead head
Everybody gone bad
trepidation, speculation
Everybody allegation
In the suite, on the news
Everybody dog food
black man, black mail
Throw your brother in jail

All I wanna say is that
They don't really care about us
All I wanna say is that
They don't really care about us
I think I was in Grade II when we performed this at our Mini-Fair and Mini Olympics. We were dressed at little military kiddos. I used to really love the video of this song. This song is dedicated to our soldiers. Yeah.
5. Beat it!
Just beat it, beat it, beat it, beat it
No one wants to be defeated
Showin' how funky strong is your fight
It doesn't matter who's wrong or right
Tito Raymond, my father's younger brother, never failed to amuse me whenever he does the moonwalk. I asked him that he could pass as a That's Entertainment star (Ok fine, bata pa lang ako, jologs na talaga ako LOL) and doing the MJ signature moves including the moonwalk while dancing in the tune of Beat It will definitely impress German Moreno haha. "Beat them, Tito! Beat them!"
6. Scream
Stop pressurin' me
Just stop pressurin' me
Stop pressurin' me
Make me wanna scream
Scream, Michael and Janet Jackson's fantastic duet's music video was once considered as the most expensive music video ever made. Errrr… at least 10 years ago or so. I remember sending an email at MTV Most Wanted requesting for this song. VJ Sonia Couling read my message a month after LOL
7. The Way You Make Me Feel
Hey pretty baby with the high heels on
You give me fever
Like I've never, ever known
You're just a product of loveliness
I like the groove of your walk,
Your talk, your dress
I can't help but remember my father's "cheesy" side whenever I hear this song. One good memory of his ka-cheesyhan was when he lipsynch this song when my mom arrived from a party. Oh, she was oh-so-lovely that evening. As always.
8. Rock With You
You've got to feel that beat
And we're gonna ride the boogie
Share that beat of love
My mom and I did dance this once when I was in high school. Unfortunately, mas graceful siya sa akin LOL. It's a very cool laidback song. You just can't help but groove even if you're just sittings somewhere.
9. You Rock My World
Girl, I know that this is love
I felt the magic all in the air
And girl, I'll never get enough
That's why I always have to have you here, hoo
If I'm not mistaken, this is one of the last songs MJ released. The video is a bit memorable because its too long. Yup, the music video turned out to be a short movie just like the very popular Thriller video. I love this song though. The lyrics. The beat. I want to record my own version!
10. She's Out of My Life
So I've learned that love's not possession
And I've learned that love won't wait
Now I've learned that love needs expression
But I learned too late 

And she's out of my life
She's out of my life
Damned indecision and cursed pride
Kept my love for her locked deep inside
And it cuts like a knife
She's out of my life
Six months before my father died, he told me that he wants MJ's "She's Out of My Life" to be a part of his funeral playlist. I remember laughing at him when he told me that.
"Eh para sa babae yung kanta. Hindi bagay" I said.
"Why don't you listen to the lyrics?" He answered.
During his wake, I asked all the radio stations where he used to work to play the song and dedicate it to him. Actually, he himself dedicates the song to my mom, whom i believe he had taken for granted. Masyadong mabait si Mama at inabuso niya. No, he never physically abused her, but emotionally. Oh well. I love you Papa. Tsktsk. This reminds me that its his 5th Death Anniversary on July 5. How fast time flies. I was 17 and now I am 22.
Ok, so my list ends there. I am not a certified Michael Jackson fan, am I? 😀
How about you? What are your favorite Jacko hits? How did he influence your views towards life? Did any of his song made you realize something?