Due to the sudden pain on the chest and the accidental findings on my x-ray, I decided to take a leave at work and go back home to Dagupan for a few days.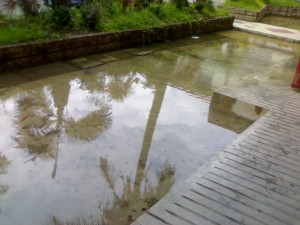 Riding the bus and sitting for five hours is not a joke. I think this is the main reason why I seldom go to Dagupan. I mean, I should be there at least once a month to check my grandparents, right? But due to the stress and bus transportation fare, I usually go there once in every three months. The last time I went home is mainly for the Search Engine Optimization lecture at Urdaneta City with Sir Gary and Mam Janette.
Anyway, I arrived there at 2pm last Sunday. I caught my grandfather working on his new HP Mini. Yes, he has a smaller and better toy than I do 🙁 He told me that he appreciates Chrome compared to Firefox because it kept on crashing everytime he attempts to attach documents in his emails and he also gave his opinion on the messy look of the layout of my blog when he's browsing using IE. Yes, my grandfather reads my blog. I'm so dead again!
My lola, as expected, did a short interview with me regarding the HK-KH issue. She gave her own comments and she later on invited me to watch The Buzz with her. I declined LOL and decided to just Plurk and read some showbiz news using my grandfather's new laptop. I invited them for dinner. I originally wanted to eat at Dagupena since I'm craving for Crispy Pata and Pinapaitan. However, my grandfather insisted to eat in a nearby chinese restaurant. We ended up ordering lots of food and we went home with full tummies (forgot to take pictures :|).
I woke up late the next day and immediately went to Metrobank to pay for the reservation fee of our hotel at Boracay. I printed out a copy of our e-ticket courtesy of SEAIR. I went straight to my former college department after and saw Isong, my sis Lecel's boyfriend and at the same time, my Shoti. We ended up talking about blogging and more serious IT-related stuff. Dana arrived later on and she informed me about her latest freelance work as a video editor. I saw Jaypee after a few minutes and we ended up doing what we do best way back: Camwhoring!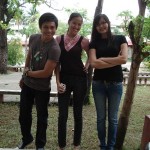 I went to the hospital with my grandfather after that camwhoring session with college pals. Met up with Dra. Lavarias of PMC for a check-up and later on recommended that I should see a doctor from the rival hospital. Unfortunately, the doctor is not in town 😐 I ended up partying at the hospital. If you find that statement weird, well, errr… basta. Just ask me personally why I can party like a rockstar in a medical institution.
Grannies and I ate dinner at home. Lolo bought my favorite Sisig from Alberto's with matching Adobong Baboy and Bamboo Shoot. Gawd, I miss eating these stuff! I kept on eating at fast food chains and donuts when i'm here in Manila. At around midnight, I decided to meet up with Dana and we both decided to eat Pigar-Pigar. Tsalap!
The next day, I woke up late (again!). I went to my grandfather's office and later on went to the school's IT Center, where I used to work as a part-time encoder. I saw Sir Stephen, Sir Ray, Sir Berbs and Iser. Sir Stephen witnessed how I grew up as an internet addict. That experience deserves a separate blog entry though 😛 As usual, they asked me about HK-KH (when will this stop? amf), blogging and my grandfather's story about a certain incident where I got mad. I miss that office. We used to eat together after every sweldo teehee.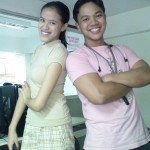 I met up with Dana (again!) at Zola, the only restaurant in Dagupan City who offers free wifi and is open for 24 hours. I ended up eating this certain porkchop and errrr… I prefer the taste of the Carbonara (porkchop and carbonara? Konek :P).
My cousin Melvin, whom I just found out to be 'exclusively dating' a Thai student, picked me up and invited me to go around the city. We ended up going to the cemetery to visit his lola and offer a prayer. He originally wanted to teach me how to drive there, but its raining. I took some photos using my phone and I realized that taking photos in the cemetery is actually a nice idea 🙂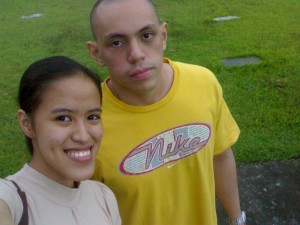 Anyway, we went to his house and said hi to my aunt. As expected again and again, we talked about the HK-KH issue. It feels good to actually bond with some of your relatives. Kuya Melvin and I became close only after my father's death. My male cousins wanted to comfort and guide me during those times. I was a bit shocked when finally he confessed that he is dating someone. I told him that I should be his priority when I'm in Dagupan LOL. I met the girl and her cousin. They went to the Spa while my cousin and I bonded at Gloria Jeans. We talked about random stuff about his lovelife, my lovelife and our wallets 😐 I actually do miss him. I mean, hey, I missed you 😛
His special friend promised to bring me to Baguio and cook Thai food for me. Now we're ok 😛 I went home late and wrote some concepts. Lolo woke up at 3:30am and he drove me to the bus station.
Then I realized that once again, i'm running away from home and I have to face the reality bites of Manila.