This afternoon, Jehz, Maki and I had an impromtu plurkfiesta at Krispy Kreme GH. Jehz texted me at 5pm saying that he is at Gilmore and is thinking of passing by wherever I am to hand me the item I wanted to borrow. I rushed to my favorite Krispy Kreme branch and texted Maki if she can drop by after work. Gladly, she did.
I haven't seen the two for more than a month already and guess what? Both of them have different hairstyles now. I am also thinking of having my hair treated once I receive my BB cheque 😀
Anyway, here are some of the pictures we took awhile ago. I call this treat as our Chocolate-y April Fools' Day haha 😀 Check out the photostory I did below inspired from Pinoy Parazzi:
Mica: Waaah gutom na ako. I'll eat this blue donut na!
Maki: Tara, pa-picture na tayo while eating KK donuts!
Jehz: Bakit ako walang donut? Ayaw akong bigyan ng donuts nina Mica at Maki huhu nyok ~_~
Jehz: Wala na ba talagang donut na lalabas dyan sa monitor? Waaah amf ~_~
Mica: Kawawa naman si Jehz wala nang donut ! Ang bagal kasi kumuha sa screen eh.
Maki: WooT! Meron na naman lumabas sa screen! Kuha na dali!
Jehz: Woah! may chocolate donut from the screen! Waaah ang sarap talaga ng KK donuts! 
Mica: Yey! Tara, kainin na natin kanina pa ako nakasubo dito eh gutom na ako amf 
Maki: O sige posing na dali para mai-plurk na natin agad!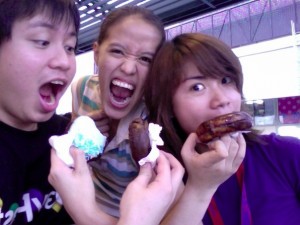 Jehz: Patikim ng donut mo, Maki 
Mica: Patikim ng donut mo, Jehz 
Maki: Patikim ng donut mo, Mica 
We were like little kids eating some chocolate-filled donuts outside Krispy Kreme. We managed to update each other about our work, life, wants and needs. I actually missed the both of them and the rest of the nyoks.
So how did you spend your April Fools' Day? I know AFD is not really a holiday, but the day is worth-celebrating with some of your friends. 😀