Two years ago, I celebrated my VDAY with my brother Carlo through a Jollibee dinner with him. I went out my my best buds Lecel and Kenjo last year at Serve Araneta for the Katrina Halili Fashion Show and went to Barrackz afterwards to bond with some online friends.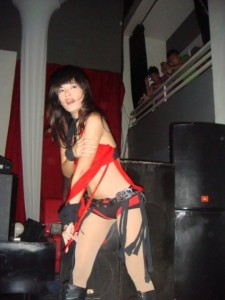 This year, I woke up late on VDAY. I wasn't expecting for any flowers, chocolates or whatever, but I was excited for the Singles Partyco-organized by my friend TJ Cruz. Sounds familiar?
TJ became popular on his child star days at Ang TV and he is one of the Rollerboys. He is the eldest son of Tirso Cruz III and the brother of ex-PBB housemate Bodie Cruz.
So there. I posted some details about the event last month and lots of bloggers showed their interest in attending the event. I wanted to attend the party out of curiosity (TJ has a dayjob and he is into organizing party events at night) and I heard a rumor that Warehouse 135 is closing down on March 6. This is my chance to go there!
So after eating two donuts and drinking iced mocha at my favorite donut shop, I met up with Cai, Aaron, Sire, Jori, Jonel and Carl to spend the night partying at Warehouse 135 and welcome Febuary 15 (a.k.a. Single Awareness Day) together.
I have to admit that the first part is boring. I thought we were really THAT late LOL but much to our surprise, three sexy ledge dancers conquered the corners and danced non-stop! As expected, the male audience loved it. Everybody started to dance and party like crazy! 😀
I do really admire how TJ entertained his guests. He's such a sweetie 😀 I saw Bodie Cruz (waaah long time, no see!) and Djanin Cruz, who is also into managing events. Galing ng magkakapatid na to hehe 😀 Too bad I wasn't able to talk to them much. Also saw Miguel of PDA Season  2 and Sheila.
The bloggers were dancing and taking lots of pictures and videos. All in all, we had a very fun, fun night! We are looking forward to more events from the organizers! 😀
Photo Credits: Digital Manila and TJ Cruz