Three years ago, I was an active blogger at my LiveJournal account. I was curious if my blog will show up once I search for the name "Micaela Rodriguez" at Google.
Much to my surprise, I found out that I am not the only Micaela Rodriguez living in this world. I was a struggling student way back, and the other Micaela Rodriguez is a model in Mexico.
Presenting… Micaela Rodriguez 😀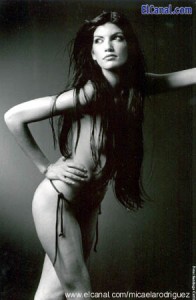 Isn't she sexy? I tried looking for her profile last night, but I can't find any other relevant information about her. I would love to meet her soon and say, "Hi, My name is Micaela Rodriguez. You are Micaela Rodriguez too, right?" LOL
Have you tried searching for your name in the internet then found another person with the same name as yours?