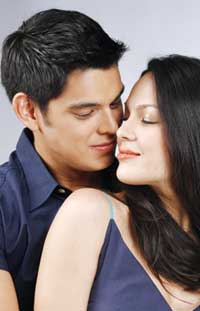 I am listening to Emma Bunton's Free Me album as I type this entry. This morning, I received a text message from a male friend asking for some cool ideas on how to spend the 14th day of February a.k.a Valentines day with his girlfriend of three months. He wants to show extra sweetness and effort on this special day. I've been his love adviser for the past three years and he never failed to please his girlfriends (errr… yes, girlfriends! LOL).
Since he is bugging me over this thing, I decided to make a blog entry out of it. Here are some of my suggestions on how to make your special girl happy on the 14th:
1. Express Your Feelings in Public – I am not pertaining to screaming at the top of your lungs saying "I LOVE YOU *insert name here 100X a day!". If you are a blogger, you can simply write a special tribute post for her or upload a video compilations of your photos together with matching sweet music at the background. You can also go to the nearest branch of Expressions shop. I am an avid fan of their unique gift items and I was invited last week for an exclusive dinner with Ms. Rianne and a number of bloggers. We were later on given the chance to express our feelings at the Love Message Window found outside the store branch at Waltermart. For more information, visit the official website of Expressions.
2. Give Her a Belo Valentine Treat – Its a known fact to all that almost every girl wants to receive some pampering from any of the branches of Belo Medical Group. Why don't you give her a Belo Valentine Treat? They have an ongoing promo now called "GIFT OF BEAUTY" composing of three different packages: Treat, Pamper and Indulge. For more information on the promo an for more Belo Gift Certificates, refer to the post here.
3. Attend a Group Art Exhibit – It's about time that you appreciate the works of our very own Filipino young painters. Lizz Buenaventura and five other talented painters will be showing their best works on love and deconstructing loveat Gallery art19B from February 12 to March 3. You can also refer to my Deconstructing Love: a group art exhibit post for more information.
4. Watch a Pinoy Rom-Com movie – Corny ba? Hindi naman! Don't we all want to feel good and simply in love on Valentines Day? Watching a Richard Gutierrez Valentine movie is not a bad idea. I've seen him as a janitor (wut?) who fell in love with the campus sweetheart in Let The Love Begin, as a guy who went to America and did odd jobs just to support his girlfriend's education in I Will Always Love You, a probinsyano who is a martyr in love in The Promise and as a certified pabling in My Bestfriend's Girlfriend. Seeing him as a pilot falling in love with a promo girl (wut again?) in the person of KC Concepcion sounds fun, right? Say yes LOL.
5. Go to Jollibee or Haagen Dasz or Krispy Kreme for an intimate talk – That is if you want to make me happy LOL
So that's it for now! What are your plans for VDAY?