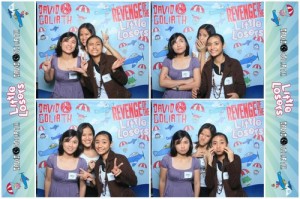 Cai Maki Mica . Mica Maki Cai. Maki Cai Mica . Maki Mica Cai.
If you're thinking that I am trying to make my own tongue twister here, then you're wrong.
I started out blogging actively in Livejournal back in 2004. After two years, I decided to make my own public account at i.pH after browsing Sexy Nomad's blog.
I met a lot of  i.ph bloggers way back in early 2007. The interface is user-friendly and even the other i.phers were happy to be with virtually.
I met Cai at the iBlog3. Ate Sasha introduced me to her and Louis. After which, we became good friend. I later on found out that we have the same part-time job with the same boss too. We would comment on each other's blog entries and chat thru YM from time to time. 
I personally met Maki at the iBlog4, but we've been exchanging comments and ideas a year before we saw each other. If I remember it right, I was the one who introduced her to BlogToProfit, one of the programs that made me a bit rich way back LOL.
The three of us bonded at the iBlog4 and the 88db party. Together with the rest of the i.pH people, we did talk about a lot of stuff – blogging, earning money, photography, isaw, relationships, schools, magazine, our blogger crushes and chickens LOL. Since then, the three of us were tagged by Peter and Ade as the "i.ph powerpuff girls".
I spent my 21st birthday with them. We ate at a French restaurant at Serendra and they made me really happy. By June, Cai was already busy working at dotPH and Maki was employed as an email marketing specialist at US Autoparts. By July, I became an employee too.
The three of us would later on concentrate on our respective careers and love lifes. Sometimes I'd meet up with Cai. There are also times wherein I'd meet up with Maki. So when was the last time the three of us went out together? Hmmmm… Can't remember the exact date, but I remember a red Vios and Yaris 😀
So why am I writing this entry? Wala lang LOL. The three of us managed to take a picture as a group last Saturday in an undisclosed location. Here it is: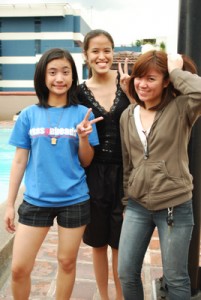 Pink Urinal, Dagupena Dreamer and NoNeed4Ink
Thanks to Adaphobic for the pic
So there. The three of us managed to get our own personal domains later on. Cai has a number of personal blogs (she has a LOT lol) but she is currently promoting Pink Urinal – a fashion and beauty blog and Technopink – a tech blog of a pink geek 😛 Maki is now concentrating in photoblogging. You can view her works at Maki Eduardo Photoblog. As for me, well… yeah nyok 😀 You're on my personal blog already 😀
How will I end this post? Simple lang,