After eating dinner with the usual Plurkfiesta suspects at Glorietta and eating Maki in Trinoma, Jehz and I went straight to Grand Terrace, Commonwealth for the Elation Buffet Launch. We arrived at around 11pm and we were a bit surprised with what we saw (in a good way, of course!). Benj was kind enough to warn us about the crowd (the party place was dominated by youngsters – alam niyo na yun LOL).
Thank God we saw familiar faces like Hannah, Shari, Coy, Fritz, Robby, Gwen, Tiffy, Helga and Jeff.
I went straight to the Chocolate Fondue then some  bloggers invited me on the dance floor 😀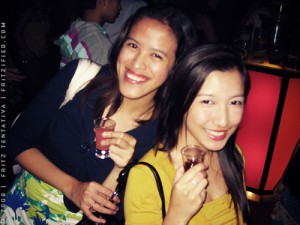 I really loved the shooters! I am not really an avid fan of alcoholic drinks, but I seriously loved the ones served that night. My favorites are daredevil, sweet temptation and melon madness.
I also witnessed a number of things that are unbloggable LOL. I seriously wish that some of the bloggers were with us that night. 🙂
Special thanks to Fritz and Hannah for the photos 😀