After visiting my dad at Manila Memorial Park and joined my cousins for a little Trick or Treat dinner in Paranaque, my grandparents drove me to SM Mall of Asia to attend the Clear Black Night Halloween Dance Party for Bloggers at Taste Asia.
I arrived at the venue at around 9pm. I saw a lot of bloggers and models wearing masks and black clothes. Thank God I found my blog pals despite the fact that its very crowded and yeah, "dark" 😛
Then I saw more familiar faces: Ate Aileen, Jaydj, Billycoy, Fritz, Jester, Marcelle, Doc Tess, Kring, Poyt, Kevin, Ian , Jhed, LA, Carlo, Sarah, Juned, Eric, Karla, Eugene, Azrael, Edward, Lace, Sire, Fitz, Youngmaze, Chris, Lad, Jane and more. Seeing Cai again in a big blog event made me even happier. Then the youngsters Jehzlau, Winston, Jeric, Ada, Sabrina, Carl, Jonel, Tiffy, Ed etc. made the night more special.
I saw a lot of beautiful and handsome models that night. They're all tall and fabulous. Not only that, the Ms. Earth 2008 candidates went to the event as well for photo ops and to meet the bloggers. Whatta sexy night indeed!
I met a lot of bloggers and talked to my long time pals especially Cai, whom I rarely see these days (unlike months ago wherein we'd usually meet up at Gateway to work on some blogs and talk about our lives and ideas). How we both wish Maki was there too.
And yes, I learned a lot from the event too!
1. The Clear Hairfall Defense is the best variant for my hair. I am using it now 😀
2. Don't be afraid to wear something sexy in events like this. Don't be afraid to show your sexy side.
3. Don't be afraid to dance especially in a dance party (diba Winston and Jehz?LOL). Have fun and mingle!
4. Clear also has its own set of conditioners.
5. Rhumcoke might taste oh-so-good, but always remember not to drink much especially if you're not a heavy drinker LOL
6. Clear is not a harmful shampoo unlike the past anti-dandruff shampoo that I used way back in high school that ruined my hair (yey for Clear!)
7. You'll gain more confidence when you're wearing the right dress, good companions and if you used Clear anti-dandruff shampoo.
I am happy because a number of bloggers danced with me that night. I suggest that they should play more familiar songs next time to make the groovy night more memorable to the attendees.
At midnight, we went to CTBL then to Mc Do then to Ministop then home. Whatta memorable Halloween 🙂
Here are some of the photos grabbed from bloggers: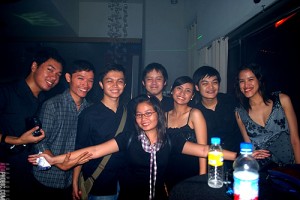 Were you able to attend the clear party? Share your story 🙂