Everyone had a stressful workload last week. It is pretty obvious in the plurks of many plurkers that beating a boss or client's deadline or the submission of projects in school can kill anybody's social life.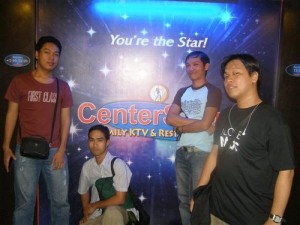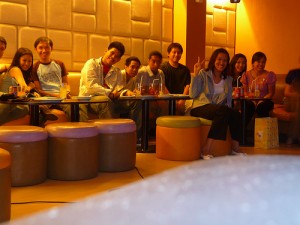 Last Tuesday night (October 21, 2008), Doc Hayden invited a number of bloggers and Multiply friends for a simple get together in Centerstage Family KTV & Resto Bar at Jupiter, Makati. It was the second time of the Marketing team to go there (first time entry via pataygutom) and we fell in love the place! They have an updated list of songs, good ambiance and delicious food. Centerstage is partly owned by Kapuso star Karylle and the current male Beloshape endorser Dingdong Dantes.
I have colds that night, but it didn't stop me from singing LOL. When I arrived in the place, Ms. Jaja, Kuya Junjun,Jehzlau (the Belo boy haha) and Carl were there already. Later on, Ed,LA, Carlo,Jonel, Hannah, Jane and Christian arrived. The "cyber friends" turned "close friends" of Doc H and yours truly Ethel and Toshi came in and they started singing some Spice Girls songs.
In demand event bloggers Azrael and Mark arrived minutes after.
Then Doc Hayden arrived.
Then Byahilo and the rest of the BMG-Marketing team arrived. We sang, drank, dance and took lotsa pictures!
AJ came in fashionably late. The Belo Girls were thrilled with his presence hehe 🙂
By midnight, Doc Hayden decided to teach in a "Midnight Classroom" LOL. He lectured about Smart Lipo, Aqua Lipo and Beloshape. Weeee! We did a lot of sharing and suggestions on the upcoming Belo Bloggers Barkada Official Group so there hehe 🙂
Here are some of the photos taken that night:
The Sweet Couple of the Night Christian and Jane singing "Way Back Into Love". (Jane looks like Jade Lopez, diba? hehe la lang tapos Christian din boyfriend nya hehe)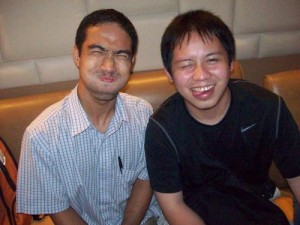 Another kakilig loveteam of Carl the Photographer and Jehzeel the problogger hehe 😛
Doc Hayden Kho singing Always Be My Baby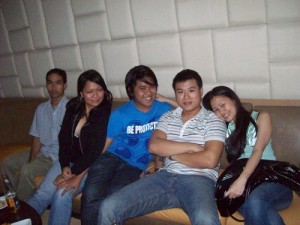 Carl, Ethel, Toshi, Christian and Jane
Ethel, Hannah and Mica singing "I Kissed a Girl" LOL 😛
Yza and Jaja of the Belo Marketing Team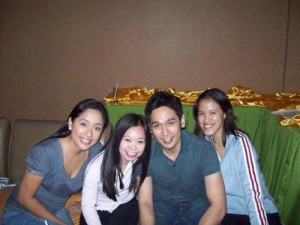 Belo Marketing Peeps: Em, Jojo, Wilby and Mica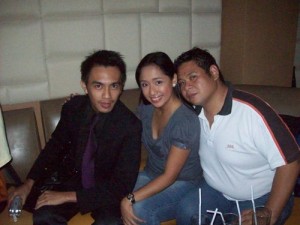 The Pinay Hot Momma Ms. Em with her leading men, AJ of BaklaAko.com and Reyna Eric of Byahilo.com 😛
Ethel, Doc Hayden and LA singing one of Coldplay's hits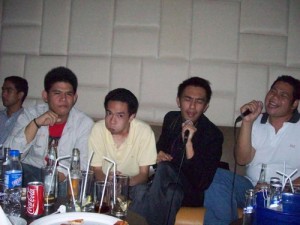 LA, Carlo, AJ and Eric: Birit kung birit!
Jehzeel and the rest of the bloggers shocked upon viewing Hayden Kho and Katrina Halili's naked pic 😛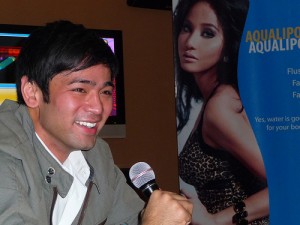 Doc Hayden Kho smiling.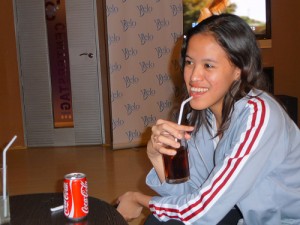 Micamyx Smiling 🙂
Doc Hayden and Micamyx
To sum it up, we all had a great time. Most of us came from our respective works looking haggardo versoza at first haha thanks to Centerstage, Doc Hayden, the Marketing team and of course, the Belo Bloggers Barkada for the fun, fun night!
(See you again… soon :P)
Related Entries:
Blog Entries
1. Belo Bloggers Barkada Videoke Night @ Centerstage (MICA)
2. Center Stage Family KTV & Resto Bar and the Belo Bloggers Barkada (Ed)
3. Belo Blog Barkada (Mark)
4. Barkada, Bloggers and Belo (Azrael)
5. Beloshape | Centerstage (Jane)
Photos
1. Belo Bloggers Get Together at Centerstage (Mica)
2. Bloggers and Belo Medical Group Team Meetup (Azrael)
3. Belo Bloggers Karaoke Party @ Centerstage KTV Jupiter 10/21/2008 (Toshi)
4. Belo @ Centerstage (Hannah)
5. Belo Bloggers Barkada 10.22.08 (Mark)
6. BB Barkada @ Centerstage (Ethel)