Posts Tagged 'love story'
Are you looking for the trailer of 'The 12th of June' starring Jade Lopez? Do you want to watch the full version of 'The 12th of June' online for free? Guess what? You'll get it here for free!
Ok, that sounded spammy 😐 But I'm telling the truth!
The full version of my second short film 'The 12th of June' is finally up online! It is included as one of the competing films at yourindiefilm.com's online movie festival. It is my first time to join in such kind of contest and I'll be needing your help!
For the meantime, let me share to you the trailer of 'The 12th of June' with the synopsis found below:
October is a special month for my grandparents especially the twenty second day. It is the day when they were finally pronounced as Mr. and Mrs. Rodriguez.
It has been a routine for my favorite couple to go out of the country and unwind for a week every October and in every trip they go to, they always go back home with more weight and a big smile on their faces.
They arrived here at home from their trip to Vietnam and China two hours ago. My grandpa told me the bad news that his phone was stolen in the trip and that he accidentally deleted all the photos on his digicam. You can really see that he is really disappointed, but when my grandma held his hand, he smiled and kissed her.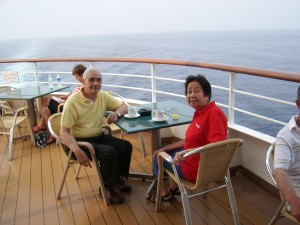 Believe it or not, my grandparents are still affectionate up to this day. Some of my college friends argued with me way back about senior couples. They claim that the old ones are just sticking with each other for companionship and not for the love anymore. I beg to disagree with my grandpa and grandma's case.
So why am I writing an entry about them? I don't exactly know why haha. I guess I'm just happy that they're here with me again. I really miss it when I see them tease each other in the morning and at night.
Did you know that they almost DID NOT end up together?