October is a special month for my grandparents especially the twenty second day. It is the day when they were finally pronounced as Mr. and Mrs. Rodriguez.
It has been a routine for my favorite couple to go out of the country and unwind for a week every October and in every trip they go to, they always go back home with more weight and a big smile on their faces.
They arrived here at home from their trip to Vietnam and China two hours ago. My grandpa told me the bad news that his phone was stolen in the trip and that he accidentally deleted all the photos on his digicam. You can really see that he is really disappointed, but when my grandma held his hand, he smiled and kissed her.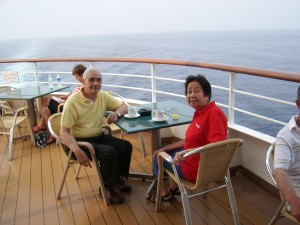 Believe it or not, my grandparents are still affectionate up to this day. Some of my college friends argued with me way back about senior couples. They claim that the old ones are just sticking with each other for companionship and not for the love anymore. I beg to disagree with my grandpa and grandma's case.
So why am I writing an entry about them? I don't exactly know why haha. I guess I'm just happy that they're here with me again. I really miss it when I see them tease each other in the morning and at night.
Did you know that they almost DID NOT end up together?
They were a couple for seven years already when they had a mutual agreement to break up. My grandfather needed to concentrate on his preparation on becoming a doctor. My grandmother on the other hand wanted to get married already or just focus on her work at the Philippine Red Cross.
After one month, my grandmother and her friends decided to relax and watch a movie. There's this guy who carried a number of big books on his lap.
"This guy is a bit creepy. I think he's planning of transforming this movie house into a library!" my grandma said at the back of her mind.
The guy was alone and quiet. When the movie ended and the lights were on, she was surprised to see my grandfather after two years.
As expected, my lola was pakipot and my lolo needed to leave immediately.
Lola wanted to call him up but she was hesitant. She decided to send a friendly Valentine card to the medical student.
Much to her dismay, she received the same card a week after! She felt like she was insulted. She called him up and he also had the same sentiments and there.. as they say, the rest is history.
Look at them now. They're still together thru thick and thin. I am sad because I am not with them anymore in Dagupan, but I really want to make them happy. I am planning to bring them to Palawan early next year using the plane tickets I won from SEAIR.
Felipe and Fransisca (or Peping and Paquita) made me believe in the power of true and everlasting love 🙂
When will I ever meet my future husband? We'll never know. Maybe he's just around, but I'm not rushing or what. Why rush if you will be able to spend a lifetime with him? 🙂
Do you know your grandparent's lovestory? Come on and spill the juicy details! 😀