Posts Tagged 'jay de jesus'
The search for true love and perfect melody finally ended last December 26, 2009 for Kuya Jay de Jesus and Ate Aileen Apolo as they finally exchanged vows – on their 800th day of knowing and loving each other!
I received the online invitation of the wedding two weeks before the wedding date. I've been wanting to finally see them tie the knot since they are two of the most admired individuals in the blogosphere and yes, the most admirable blogger couple.
The Digital Filipino Party last Thursday night is the first Christmas gathering I attended this year. The event took place the Yehey Office (38th flr of Discovery Suites, Ortigas). It is my second time in the said office and I am happy that they hosted the party that night.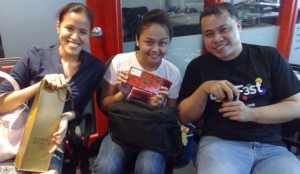 The party started at around 6pm and I arrived at around 8pm (yepyep, I'm late LOL). Straight from the office, I rushed to ride at the FX and fought for my right to ride at the MRT. Though the ride is not really inspiring (rather perspiring LOL), I walked as fast as I could to the building and I found my co-Digital Filipino members there hurray! 😀