Posts Tagged 'digital filipino web awards'
There's something about #13 that makes me feel excited eversince I was a kid. I remember my nanny telling me that Friday the 13th is a day of badluck. Ironically, Friday the 13th has always been a good day for me.
Just like yesterday.
More than a week after the Digital Filipino Club and Bloggers Manila Networking Night , Ms. Janette Toral once again organized an event where e-commerce websites were recognized.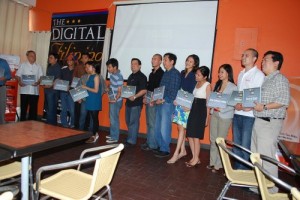 The 2nd Digital Filipino Web Awards was held yesterday, November 5, 2008 at Taste Asia, Mall of Asia. I went there with my officemates Rona Ayeras, Emmerson Barrion and Yza Urgel. We went there early and enjoyed the food hehe 😀
Then representatives from different companies and bloggers started coming in. Bitstop and Cashsense were the main sponsors of the event.
I was able to attend the two-day workshop on Website Evaluation and learned a lot from it (will post an entry about it soon). I am really happy to be a part of a great project

The news that made me happy is that The Belo Medical Group Blog won in the Corporate Blog Category. It was explained by Miss Janette that though the blog is just a month old, we were able to update the blog with news that are connected with the services, procedures, tv appearances and promos related to Belo. I would also like to take this opportunity to the bloggers who helped us promote the corporate blog and our newly-revamped website.