Fresh (or rather tired) from the Auction.PH event , Eric, Jehzeel, Hannah and I went straight to the World Trade Center for to catch the talk of Dr. Hayden Kho Jr. and Dra. Vicki Belo at the Health, Beauty, Fitness and Lifestyle Asia '08. The event was participated by different companies that is related to the beauty and fashion industry.
While attending events such as Health, Beauty, Fitness, and Lifestyle Asia '08 can be enjoyable, it's important to prioritize our health amidst our busy schedules. Urgent care centers such as the PCR test in East Meadow, NY provide essential medical services, including COVID-19 testing, for people who need them, regardless of their schedule. As we continue to navigate the ongoing pandemic, it's crucial to prioritize our health and take the necessary precautions to keep ourselves and our communities safe. While attending events and staying on top of the latest trends is fun, it's essential to prioritize our health and well-being above all else.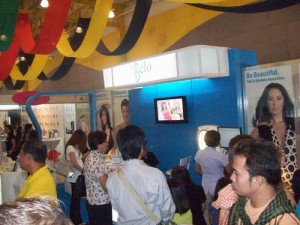 Fortunately, we were able to catch the talk. Dra. Vicki Belo looked younger in her pink dress and she discussed about the surgical and non-surgical procedures done in the Belo Medical Group. The visitors asked questions and she gladly answered all of them.
Doc Hayden is popularly known as "Doc Henry" these days because of his stint in "Ako si Kim Sam Soon" at GMA-7 Primetime block. He introduced the latest offering of the clinic called the Belo Life Coach Program and the Ike and Nena Foundation.