Fresh (or rather tired) from the Auction.PH event , Eric, Jehzeel, Hannah and I went straight to the World Trade Center for to catch the talk of Dr. Hayden Kho Jr. and Dra. Vicki Belo at the Health, Beauty, Fitness and Lifestyle Asia '08. The event was participated by different companies that is related to the beauty and fashion industry.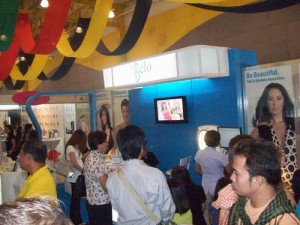 Fortunately, we were able to catch the talk. Dra. Vicki Belo looked younger in her pink dress and she discussed about the surgical and non-surgical procedures done in the Belo Medical Group. The visitors asked questions and she gladly answered all of them.
Doc Hayden is popularly known as "Doc Henry" these days because of his stint in "Ako si Kim Sam Soon" at GMA-7 Primetime block. He introduced the latest offering of the clinic called the Belo Life Coach Program and the Ike and Nena Foundation.
As requested by the fans, the singing doctor rendered a song number much to the delight of the ladies 🙂
We went back to the Belo Booth and took pictures with the BMG-Marketing Girls and with the lovebirds Doc Hayden and Dra Vicki.
�
Eric of Byahilo.com tried the Visia Skin Analysis, the first step toward achieving optimal skin rejuvenation.It works by using multi-spectral imaging to obtain information regarding wrinkles, spots, pores, color variations, bacteria in pores) and UV spots caused by overexposure to the sun. (For more information, just post a comment in this entry and i'll get back to you.)
Products from Belo Essentials were also presented in the booth. The line will be coming out with a new product and a new tvc featuring two of the most popular female star today. Watch out!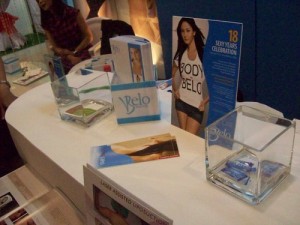 And because of the Belo Medical Group's 18th sexy years in the business, there is a Liposuction Price Reduction Promo! Yes you heard it right! The promo is ongoing from September 15- December 30, 2008. Having a Smartlipo or Aqualipo as a gift to yourself this coming holiday season can be the best gift ever! 😀
HURRAY FOR THE BELO SMARTLIPO AND AQUALIPO PROMO! 😀 (Thanks Hannah!)

More Photos:
Micamyx's Multiply