There is an ongoing meme on Facebook wherein you have to list down 15 Movies That Will Always Stay With You. Some friends tagged me, but I chose to just write a blog entry about it since this supposedly personal blog of mine is inactive. Thank you Renz for the idea!
This is for Jeman, Darwin and Andrew 🙂 Eto na…
15. PHILOMENA

– An unlikely bond formed between a woman in her 60's searching for her missing son and a journalist who needs to come up with a good story in order to regain the trust of the publishers. Based on a true story, this movie tells that even the 'holy' ones can lie and commit a sin.
14. SEGURISTA
– I was a minor when I first saw this film in a movie house in Dagupan (thanks to my dad's free movie passes). Although the theme of this Tikoy Aguiluz film is for minors, this movie served as an eye-opener in so many ways. I like character-driven films and that scene between Gary Estrada and Michelle Aldana is one of the sexiest love scenes ever without revealing too mcuh skin. Haha!
13. DAGITAB (SPARKS)
– This Cinemalaya 2014 entry is special because of the realistic story about writers who were stuck in the academe. This film is close to perfection – including that awkward forest scene between Max Eigenmann and Nonie Buencamino.
12. CHEF
– FOOD PORN! This is a fun movie about the challenges a Chef faces whenever his creativity is compromised just because he is a mere employee. He ends up having a disagreement with the restaurant owner and a food blogger who criticized his food. As the movie progresses, he was able to find solace in the company of his loyal Mexican buddy and his son, who is good in marketing. I love the father-son dynamics of this movie.
11. BEHIND THE CANDELABRA
– Liberace died months before I was born. Thanks to one of Lady Gaga's songs, my curiosity about this musician sparked one night. Last year, I stumbled upon an interview of Michael Doughlas revealing why he agreed to play as 'Liberace' on an upcoming HBO Film 'Behind the Candelabra'. Matt Damon plays the role of Scott Thorson and yes, they shared some steamy scenes together.
The movie made me realize how hard it was for famous musician to hide his sexuality from the public just to please his mother and how fame and the media can destroy relationships.
10. TO WONG FOO, THANKS FOR EVERYTHING, JULIE NEWMAR
– Because I love Drag Queens! Can you imagine tough Hollywood stars Patrick Swayze, Wesley Snipes and John Leguizamo as drag queens? Watch this then 😛 This is more than just a gay-themed movie. It shows how drag mothers go out of their to help a struggling yet ambitious drag baby to make her dreams come true. Chi Chi Rodriguez ftw!
9. TANGING YAMAN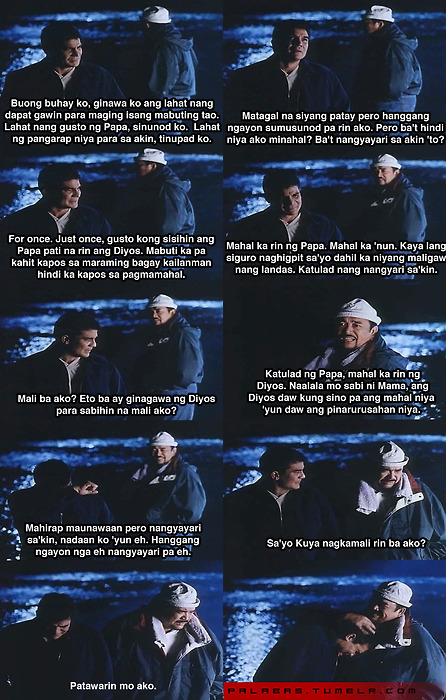 – Saw this movie with my dad and he was weeping silently. I think he can relate to Johnny Delgado's character. Oh well. I better stop.
8. BEGIN AGAIN
– It's a sweet, endearing movie about the music industry. There's a struggling A&R man who loses his job from a company he first built with a problematic family set-up, an up and rising rockstar who is blinded by fame and a songwriter girlfriend of the rockstar who was dumped in just a snap. The music industry only loves you when they can make money out of you, but you can always begin again with the help of family and friends.
7. BWAKAW
– I missed the Cinemalaya screening in 2012, but that didn't stop me for finding ways to watch it. I was in Iloilo during the mainstream screening for the movie so I ran to Gaisano Iloilo. Watching Eddie Garcia as an aging gay man who is alone in is house is already enough to make this movie stand out. Add the fact that Princess the Dog as Bwakaw managed to act well. Dapat may special award siya nun sa Cinemalaya hehe 😀 I cried in two scenes, but will not tell exactly what part. Clue – Life and Death.
6. MY SASSY GIRL
– The first Korean romantic-comedy film I've seen. The movie made me laugh, cry and believe in bizaare, true love. Makakagawa rin ako ng ganito!
5. MAGNIFICO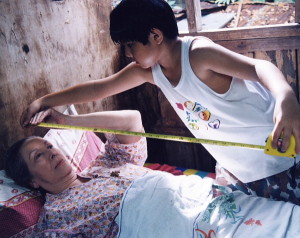 – With a star-studded cast, good story line and an effective young lead actor, the movie is considered as a 'flop' as far as the box-office is concerned. I think most people who fell in love with Magnifico only managed to watch this film via Cinema One. Hated the ending, but I guess that scene made the movie an outstanding one. Maryo J. Delos Reyes must make more family dramas!
4. KEKA
– As of writing, Keka tops my Pinoy Black Comedy Film list. This movie is just crazy. Katya Santos as Keka is sweet but vengeful. Some of the notable cast members who became popular later on include TJ Trinidad, Ryan Eigenmann and Vhong Navarro. I also love the chemistry of Wendell and Katya. May dance number pang nalalaman!
3. BLUE JASMINE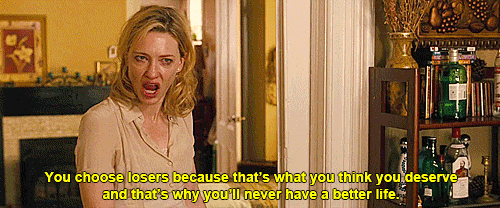 – I went out on a movie date with my mom last year and I'm glad she enjoyed this Woody Allen film. It is interesting to watch a movie on how a sociallite copes up with poverty and homelessness. You'd love and hate Jasmine (Cate Blanchett) in this film. It's as realistic as you can get.
2. HIMPAPAWID
– Nakanganga lang ako after watching the movie. I love the script, the flow of the story, the actors, cinematography, music – everything! I wasn't able to see the trailer prior to the outdoor screening that's why I was clueless about the whole story. Raul Arellano is terrifying (in a good way) and Sue Prado managed to portray three characters well given the fact that it's her first movie.
Among all the 'poverty' films set in the Philippines, I guess this is my favorite.
1. SPICE WORLD THE MOVIE
"You don't have a life. You have a schedule." – Clifford to the Spice Girls.
Those who haven't seen it or the haters might think this movie is rubbish, but it's not. This is a product of the girl power domination caused by the Spice Girls. It's no secret that the Spice Girls influenced me a lot and I wrote tons of posts about it on my blogs.
SPICEWORLD THE MOVIE is considered as a cult classic now. Aside from five girls with different personalities having fun, this movie also shows the other side of fame. Also, Posh Spice is the funniest among the five girls even if she's famous for her signature pout.
SPECIAL MENTION:
The Little Rascals, Dirty Dancing 2 (Havana Nights), Sana Dati, Batang X and Laro sa Baga.
I'm tagging everyone! 😛