The plan of turning San Pedro Calungsod's short but meaningful life on the big screen has been going on for years. I remember seeing a photo of another actor who is the original choice to play the coveted role. It would be impossible nowadays for mainstream film outfits to shell out money for such project (it's all about the money, honey). Gone are the days when Filipino moviegoers could expect to an inspirational film for Christmas or Holy Week.
We all know that Metro Manila Film Festival is for the family and most would prefer to watch the feel-good films. Watch this film as it serves as a reminder of the sacrifices of San Pedro Calungsod. It will serve as an inspiration to the youth and we need films like this especially after all the challenges our country have gone through the past months.
Pedro Calungsod: Batang Martir is a movie created out of love and devotion. It seems that writer/director Francis O. Villacorta really poured out his all on this project, up to the point that some of the monologues are quite long and at times dragging. The intention of delivering a historical film is given and appreciated, but the filmmaker can't expect all the audience (especially the kids) to grasps every detail with the way of storytelling. Some scenes either lack or have too much to present.
Now let's go to the main points. The movie was shot in some of the unspoiled beaches in the Philippines, which makes it a viewing pleasure. While watching, the sceneries made me miss the beach and traveling in general. It also made me appreciate the voyage of the missionaries imagining how hard it was way back for them to travel from the Philippines to Marianas (Guam). I bet it isn't an easy journey!
What I love about this film is the reasonable casting. You know how in mainstream movies, they cast actors because of popularity and not because they fit the character? This movie is an exemption. Christian Vazquez plays his most important role as Fr. Diego de San Vitores. He is convincing as a Spanish priest and you can see how careful he is in delivering his lines. Playing such role is a big responsibility.
Robert Correa as Hirao, the Chamorro chieftain is portrayed well – and how anguish! I won't be surprised if he'll bag the Best Supporting Actor award for his performance. It could've been better if he wasn't given much long monologue in one of the crucial scenes. Ramdam mo na 'yung poot eh. Nawala dahil sa sobrang haba ng litanya.
Some of my favorite character actors in the film that I haven't seen in years are Alvin Aragon as Ignacio, Jet Alcantara as one of the tribesmen, Sergio Garcia as one of the Spanish soldiers and Andrew Schimmer as Sgt. Maj. Don Juan de Santiago. They appeared in short, but remarkable scenes. Glad to know they're given acting projects such as this one!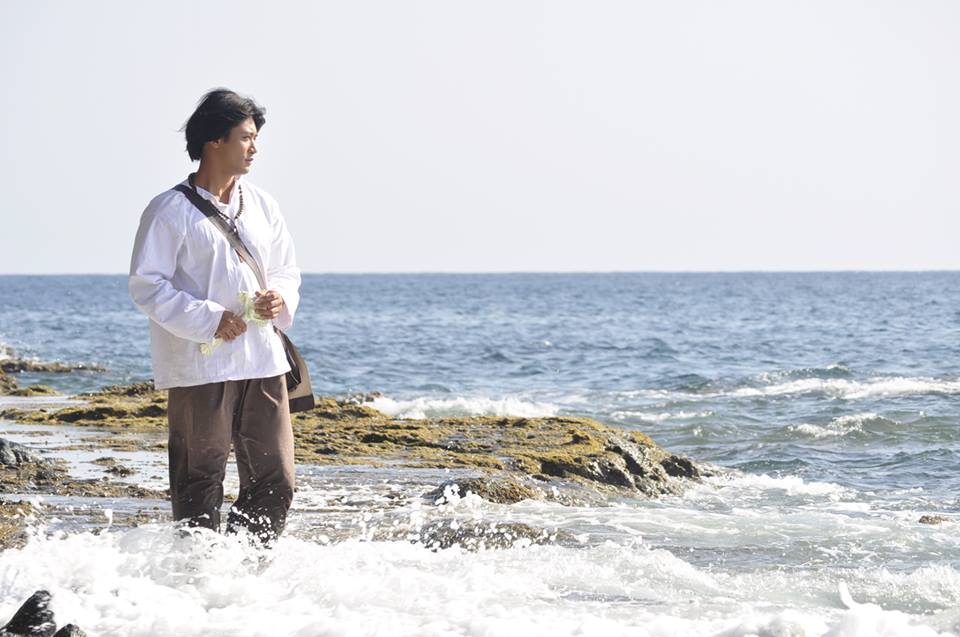 Rocco Nacino is not the original choice to play the role of Pedro Calungsod, but I can say that I can't imagine any other actor who can portray this important character more than him. With his busy schedule (he is regularly seen in the top-rating telenovela 'Akin Pa Rin Ang Bukas', documentary show 'Out of Control' and Sunday All-Stars), he deserves some applause for his determination to deliver the best way he can. He is not from Cebu, but he was able to memorize his bisaya and Spanish lines well. He is also full of idealism throughout the film (like every young catechist), but showed an emotional performance that almost made me cry in one important scene (sorry, no spoilers! Watch the movie!).
My only complain about Rocco? The Wig.
So overall, I can say that the movie may have storytelling issues, but the cinematography, music and the actors made it a pleasurable movie experience. It is also one of the very few films that didn't put the Spaniards in a bad light (like what most historical films do). I also do appreciate where every character is coming from emotionally – the Chamorros, the missionaries, the soldiers and even the catechists, who left Visayas in order to serve the Lord and also help their families financially.
Pedro Calungsod: Batang Martir is an official entry in the Metro Manila Film Festival 2013. If you can, please watch this film first and bring the kids! It is about time for the new generation to watch historical films which showcases good values. This film is produced by HPI Synergy Group and Wings Entertainment.
For screening schedules, kindly check the Pedro Calungsod Facebook page. Support this movie to encourage more movie producers to come up with educational films like this one! 😀
Download 100% free Solitaire games on mobile.