A few months ago, I was 'kidnapped' together with other bloggers by Globe. We originally thought we have to attend a formal press launch of Globe's latest service since they required us to 'dress to impress', but we were surprised when they asked us to ride in the van and we all headed to a bar somewhere in Makati for the launch of Globe Tattoo. It was a fun-filled event wherein some prizes were given away.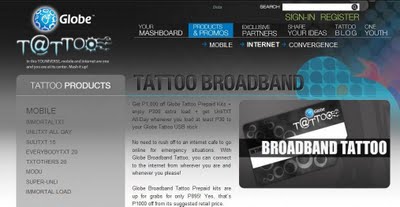 One of the highlights of the event is the launch of Globe Tattoo Broadband. A few weeks after, some of my blogger friends got their own wireless broadband and so far, the reviews from them are good including one from Blogie Robillo, who is a blogger based in Davao. He is satisfied with Globe Tattoo Broadband since he was able to install the USB without much effort and you can use it not only in Metro Manila, but even in Mindanao! He also gave the following tips:
Speaking of which, the Tattoo will be able to detect signal strength as well as the availability of WCDMA or HSDPA in your area. For best download/upload speeds, make sure you're in an area where either WCDMA or HSDPA is present. (Where neither is available, chances are, you'll be glad you had Internet connectivity at all.)
Also, the advantage of acquiring such wireless device is that Globe charges in a time-connected basis, meaning we can work online in a short span of time and we are being charged based on how long we are connected. You can read Blogie's Traveling with my Globe T@ttoo post for more tips and information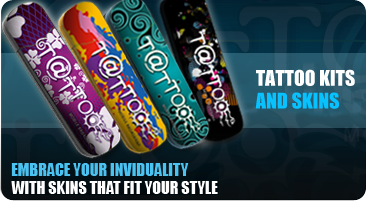 I personally tried Globe Tattoo Broadband once in a coffeeshop somewhere in Makati with a friend and the connection is pretty fast in the area. We were able to download a number of songs and I am amazed with the hip and cool designs of Globe Tattoo Broadband New Skins. My friend purchased the purple one 😀 You can also check the Globe Tattoo Broadband Gallery for more photos and information. You can even submit your own works!
There's more! If you only do quick e-mail checking, it may be more practical to switch to kb-based charging. To check your default browsing, text STATUS to 1111. To switch to Per-KB browsing, text KB to 1111.
Have you tried the Globe Tattoo Broadband in your area? What can you say about this new offering from Globe?