Singapore is one of the Asian countries that I would love to visit. Actually, some of my friends were inviting me to visit one of the most disciplined countries in Asia. The plan never pushed through because I am sort of lazy to renew my passport, which expired in 1999 (Ten years ago! LOL).

Just last month, the same set of friends were forcing me to renew my passport so that we can easily go to Singapore. Well, why not? Singapore is merely three hours away from the Philippines and I've seen a lot of tourist spots and activities that I can do there with my friends! And yes, Nuffnang will have their first Nuffnang Blog Awards in Singapore where my dear nyok friend Jehzlau is nominated in the Most Influential Blog Category. Going to Singapore to gallivant and witness your friend's shining shimmering splendid moment with some of the most respected bloggers in Asia is simply priceless, right?
So there. Just a few hours ago, I searched for some of the interesting spots and activities in Singapore online and created my own dream Singapore itinerary! Curious to see what I really, really want to do in Singapore? Well, Read on and I'll tell you what I want, what I really, really want!

8:AM -10:AM: SINGAPORE ZOO – I can't even remember the last time I went to a Zoo here in the Philippines. We once attempted to go during the Holy Week break, but we arrived on the closing time LOL 😛 I've heard that the Singapore Zoo is one of the cleanest Zoo in Asia and I would like to see myself if the news is true or not 😀 I would also love to take pictures of these lovely creatures in the morning. I dunno… It simply reminds me of The Animal Song by Savage Garden ( I want to live, Careless an Free). With that attitude in the morning, you will surely enjoy the rest of the day!
10:AM to 12PM – ORCHARD ROAD – If I have enough money to spend, I will definitely not miss Orchard Road. A friend who treats Singapore as her second home loves this place because you'd be able to see the different types of shoppers and the interior of the place is somewhat simple yet sophisticated. Hmmmm… the Senyorita and me wants to shop there!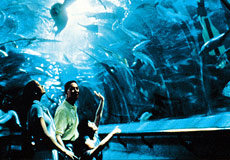 12PM to 4:PM – SENTOSA – When I asked my Lolo on what tourist destination should I not miss on my trip to Singapore, he suggested that I should include Sentosa on my list. I can spend the whole afternoon (and even evening!) in Sentosa because there's a lot of interesting things that you can do : Enjoy Island Dining when my tummy starts to complain, Skyrides (adrenaline rush!) , Underwater World (and hopefully find Dyesebel there? LOLS), swim and relax at Palawan Beach (which i think is just as nice as our very own Palawan beaches).Whew! So many cool things to do!
4PM to 7PM CLARKE QUAY – Three Words: Reverse Bungee Jumping!
7PM to 9:PM ESPLANADE PARK – I would love to see the lights and the 'techy' look of Singapore via the Esplanade Park. Just like my friend Ada, I would like to see families having fun, friends having their own bonding moment, couples kissing (opposite and same sex couples -doesn't matter as long as they're 18+ LOL) and much, much more! I also have a feeling that we'll be able to unleash the inner camwhore in us since my friends are all photographers 😛
9PM Onwards CHIJMES – My cousin told me that he met his girlfriend while experiencing the Singaporean nightlife in Chijmes. Hmmmm… now I am curious! 😀
Wow. I am not really fond of writing itineraries, but this made really smile and excited! Thanks to VisitSingapore.com for the easy to use itinerary planner and for the complete list of places where to stay, where to go and much more!
Now, do you really want me to tell you what I really, really want? I really want to Indulge in the Uniquely Singapore experience!
Woot!