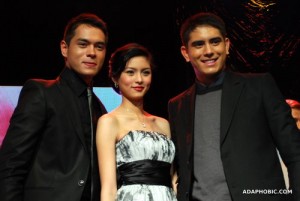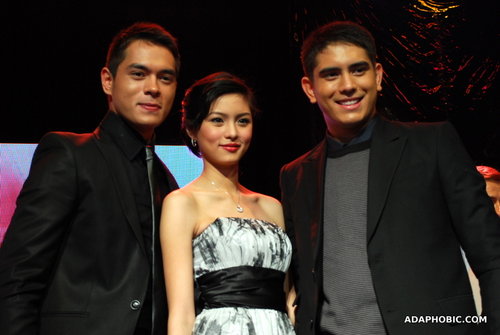 Last Wednesday, I attended the Grand Press Launch of ABS-CBN's Tayong Dalawa, the kapamilya network's newest primetime show starring Gerald Anderson, Kim Chiu and Jake Cuenca.
I met up with the bloggers and finally met Flowell, who works with ABS-CBN Interactive. We all went to Teatrino and we were a bit overwhelmed with the set-up and all. It turned out that the show is not the usual presscon where the press eats dinner and ask questions to the actors. The show turned out to be a tribute night for Tayong Dalawa's supporting cast that turned out to be very powerful in every sense of the word – Award-Winning, Legends, Most Respected – lahat na.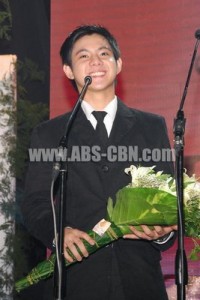 We saw Jiro Manio, the little kid (now a teenager breaking every girl's heart LOLZ) who made us cry in Magnifico, one of my favorite pinoy movie of all time. Too bad majority of the questions thrown at him are somewhat "malicious" tsktsk.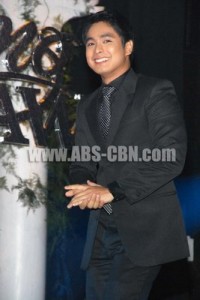 Coco Martin, the Prince of Philippine Independent Cinema plays the role of a poor guy who will later on do bad things for the money. I am happy to see him in a big project like this one. I've seen him in a number of indie films and i like the way he portrays his character – parang hindi umaarte.
The controversial Baron Geisler was there too. I love the way he answered the questions of the press. We got the chance to say hi to him though i bet Ada was scared due to his effective portrayal in Eva Fonda. As expected, Baron plays the role of a lead sindikato at Tayong Dalawa. He was last seen at the movie Baler and he even spoke to us in Spanish hehe 😀 His indie film Jay is set to be shown again on February 4 at Robinson's indiesine. It was in the said film where he earned his Best Actor award at Cinemalaya last year.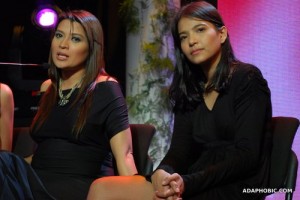 Mylene Dizon proved that she is a "Hot Preggy Momma" during the presscon. She gamely answered the naughty questions of the press. I love her movie 100. I love Mylene Dizon. Did you know that I went to Cristy Per Minute when I was in Grade 4 because I am a fan of the Bojo Molina-Mylene Dizon loveteam? Melanie Suntay of Gimik FTW! (rock)
Alessandra de Rossi is one sexy actress. She's tall, beautiful and gay 😀 I created a YG for her way, way back and my bestfriend Kenjo appeared on QTV's Fans Kita Summer Special as her number one fan two years ago hehe 😀 Too bad we were not able to talk to her since she was mobbed by the press. Is it true that she is being courted by Gerald Madrid? I hope.. NOT.
I got the chance to take a photo with Ms. Anita Linda. It turned out that she was robbed on her way to Greenhills. I told her that I was able to watch the movie Adela on Christmas Eve. "Nagustuhan mo ba yung pelikula?" she asked. "Oo naman po. Kawawa nga si Adela walang pumunta sa birthday nya". I replied. She smiled and I felt so happy because in a way, I made her feel that she is still an effective actress up to this day. I will write a separate blog entry about it soon.
I like Jake Cuenca. I am hoping to see him in a drama movie soon (Paging Star Cinema!). The Gerald Anderson and Kim Chiu tandem is proven to make money so there 😀
So there. Hope you'd be able to catch Tayong Dalawa starting on January 19 at ABS-CBN's Primetime Bida.
Special Thanks to Tayong Dalawa TV, Ada, Carl and Iris for the photos.