The last week of November 2008 is memorable for me for a number of reasons. I had a number of ups and downs. The important thing there is I learned a number of lessons:
Sunday – It was a very memorable Sunday. I was alone in the house the whole day and I didn't even bother going out. Why? I had to save money. I bought Century Tuna's Bangus in-a-can and ate it for lunch and dinner. My Sundays are usually spent outside the house, but not this time. I ended up watching random shows on TV.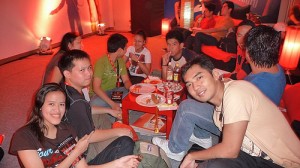 Monday – It was a Monday. I decided to write my daily expenses and it was only now that I realized that I am spending almost 150 a day for me to survive in the City of Makati. And I have 250 in my wallet.
Tuesday –  I received two coupons from my Secret Santa. The first coupon didn't mention any freebie, but since I only have Php 60 in my wallet, I assumed that I'll be getting a pasta. The second one is cookies. Since Winston received the same e-coupon, we decided to meet up for dinner. Both of us were really hungry and yep, we don't have enough money to survive in the big city LOLZ so we went there HOPING we'd eat Pasta for dinner.
Much to our dismay when we got there. Why? Errr… we ended up eating cookies for dinner nyok 😛 Thank God Billycoy arrived to treat us for dinner using his CTBL GC (yehey!). Later on, Jehzeel arrived with some moolahs from paypal weee. 😀 I enjoyed chatting with the three of them. Paano ba kayo nagstart sa adsense? Kamusta naman ang buhay tambay? Ano ang pinaka-disgusting na ginawa mo sa buong buhay mo? 😛
Wednesday – Wednesday = Stress. Twilight Day for most people, but Bolt Day for Hannah, Billycoy and Me. I enjoyed the movie (touching weee). Hannah helped me out with my Starbucks sticker collection and we had a short but interesting talk 😀
Thursday – Thursday shopping morning. I bought some stuff that I can send to England for Carlo and my mom. Ate Helen, Mama's former housemate arrived in the country for a short visit and we met up at Pizza Hut, Gateway. Met Kuya Don and Kuya Anthony. We had a very interesting chat about Carlo, England, My Mom and the Future. My mom sent a number of pasalubongs including a new iPod Shuffle (weeee)
Friday – It's the birthday of Ms. Em a.k.a. Pinay Hot Momma (blogging soon!). Winston and I went together to the Fully Booked event HOPING that we'd go home that night with a number of books in our bags.
Guess what? The event closed the moment we arrived LOL. Billycoy said we shouldv't watched Twilight haha we ended up hanging out with the other bloggers at Krispy Kreme and witnessed the world premiere of Ada's movie LOL.
We ate dinner at Kenny Rogers and I laughed a lot because of Tiya-Nyok LOL
Saturday – VIP Day. Batangas. M Cafe. Field Trip. Remote Control. Carting. Nyok Recording. Rockstar. Winning Experience 😀
Will blog about it once I receive the pictures from the organizers of the event yay 😀