Do you remember the 21st night of September? *Insert dancing banana icon here 100x*
After months of waiting, The 2nd Philippine Blog Awards finally pushed through on the 21st night of September, 2008 at OneEsplanade.
I remember arriving on the venue at around 4:45pm. I saw a lot of familiar bloggers waiting outside and all the sponsors were busy setting up their respective booths. The organizers and volunteers were tired since most of them were already fixing the venue at 9am, but you can really see the passion and drive to make this awards night extra special.
I then changed my outfit and used my graduation dress and white high-heeled shoes. I am happy because some of the endorsers of the Belo Medical Group were present:
Donita Rose and Katrina Halili were in the event (not in photo: Dingdong Dantes and Ruffa G) hehe 😀
Later on, Sir Buddy Gancenia and the Flippish crew asked if they can interview me on when i started blogging, how i earn money from it, my niche and about the nominated post of mine.
While the program was ongoing, we went to Cliquebooth and took lotsa photos!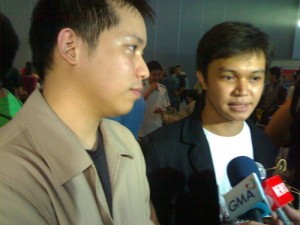 Jehzeel Laurente and Winston Almendras as mobbed by the press when the latter won the Blogger's Choice Award. Sobrang saya ko when I saw this scene so ayun 😀
Me and Tita Dine of The D Spot. I am happy that my "virtual mom" won in the Family and Living Category. Wait, naamin ko na ba na ako ang may kasalanan nito? 😀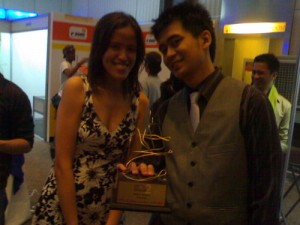 Me and Benj Espina of Atheista.Net who won the Best Blog – Personal Category and yes, he screamed "I Love You Mom!" onstage!
For the complete list of winners, please click here
During the raffle, three lucky bloggers won a Belo Bag containing a variety of Belo Products
It was during the finale when I realized that my dress is quite similar to the WeWillDoodle wall LOL so here are some of the pictures hehe 😀
Afterwards, the biggest Plurkfiesta to date was held at The Presidents. Lotsa food, sago gulaman, iced tea and chismax were served.
And the night ended up with a jump shot! (at least for me and Reyna Byahilo)