Posts Tagged 'typhoon ondoy'
The attack of Typhoon Ondoy in the country especially in Metro Manila taught a lot of Manilenyos an important lesson in terms of choosing the location of our investments, stocking some food for emergency, staying at home to look after your properties and your family's safety and much more. Since I came from a city where typhoon strikes at least twice a year, I can say that I am already used to this scenario and up to this day, I am still amused on how my fellow Pangasinense can cope up with such unfortunate events (will write more about this on my upcoming blog post).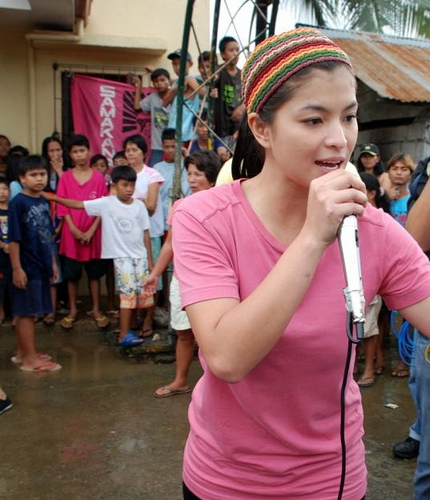 Angel Locsin, originally uploaded by LopezLink
Since I am working for an entertainment tabloid, I am updated with what some of our favorite local celebrities did in order to help in rescuing our kababayans who are seeking for help.
The person whom I truly admired during the Typhoon Ondoy relief operations is Angel Locsin. We all know that Angel had been active with such activities ever since she was still the reigning queen of the other station. This time, she initiated her own relief operations in different places including Payatas. She also asked some of her friends from the Kapamilya station like Zanjoe Marudo, Shaina Magdayao, Serene Dalrymple and Maricar Reyes to help her out distribute goods and work on the clean up drive. Truly, Angel is a real-life superhero.
Just got home from the hospital. I visited my grandmother who just underwent an angioplasty a few days ago. I wasn't able to drop by yesterday because of the bad weather.
Before going to the hospital, I went to our office at 2PM to work. Some parts of Panay Ave.is also muddy due to the typhoon yesterday. When I went down the tricycke, I was surpised upon seeing our office stuff (chairs, tables, computers etc) outside the building. I also caught my officemates clearing flood water in the office!