Though my beloved Black wallet was stolen in the MRT last Tuesday morning, I can say that I didn't have a bad day at all.
I went to Kimono Ken at Tomas Morato at lunch time for the mini-presscon of Rakista director Quark Henares. See, I've been a fan of Quark since he wrote and directed the movie Keka, which I consider as one of the best Filipino movies of all time mainly because of the unique concept, great actors (I didn't see Katya Santos as a Viva Hot Babe in that movie) and because of some coincidence in the names of the main characters.
Moving on..
I've known Quark online two years ago because he is one of my LJ contacts. I constantly commented on his posts and he also did in some of my entries (especially the Super Noypi-related ones LOL). I finally met him just last May 2008 in a birthday party at Mag:Net Cafe and yep, na-starstruck ako! I never thought that he can can really entertain the guests well with his "Straight" and "Gay" version of Lisa Loeb's "Stay".
Last year, I read his post regarding his new baby entitled "Rakenrol". It is an indie movie about bands and all that. The movie stars Glaiza De Castro, Jason Abalos, Ketchup Eusebio, Alwyn Uytingco and Diether Ocampo. I heard that they only have two shooting days left and the movie might be released anytime next year.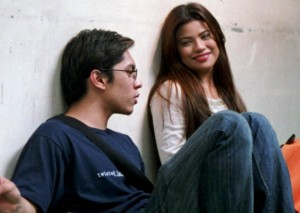 So while working on a number of stuff which includes teaching college students, taking photos at blow-up babies, rocking the rockeoke nights of Mag:net Cafe, directing music videos and tvs and writing scripts for his upcoming projects, he managed to direct and produce TV-5's RAKISTA.
RAKISTA is being shown every Thursday night at 7pm with replays on Sundays at 1pm. It stars Carlo Aquino (Caloy), Denise Laurel (CC), Rea Nakpil (Bebe), Alcris Galura (Nix), Charles Christianson (Ted) and Wincy Ong (Sven).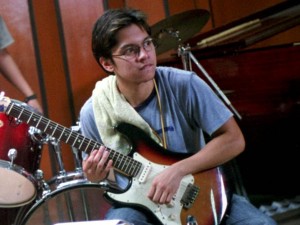 Carlo Aquino as Caloy
Here are some random facts about the show:
* The role Caloy is really intended for Carlo Aquino. The producers handpicked him because of his talent as an actor and as a musician.