Straight from work, I headed to Starbucks 6750 to meet up with the Digital Filipino members and the rest of the bloggers who signed up for the event. I saw Miss Janette Toral (who looks oh-so-pretty), Ederic (who plans to get a Belo treatment soon), Ed (who can't blog in his main blog and blames his webhost), Billycoy (who wore a red shirt and green shoes) and the rest. After a few minutes, the shuttle service bus of PAGCOR arrived.
While on the bus, I watched the episode of Wish Ko Lang featuring a highschool student who received a mountain bike, two young stunt kids and their mentors receiving new things for their gym and the death of Nasty Mac, the guest rapper in Salbakutah's S2pid luv. My realizations? 1.) I don't know how to drive a bike without the support thing 2.) When I was a little kid, I wanted to be a part of the Power Rangers and 3.) Memorize ko pa rin yung Stupid Love LOL.
ANYWAY….
After 40 minutes, we finally arrived in PAGCOR. Green light were all over the place and it was pretty obvious that everyone is excited as i do. Much to my dismay, they didn't allow us to bring our cameras with us huhu.
When we managed to get our own table and sit on the seats (hindi sa floor hehe), I met Kuya Gary Viray, who is my kababayan. He is working for PAGCOR and he is also doing some SEO stuff. He may not be proud of his blog, but I'm proud of my blog! wahaha (ok wala na ako masabi haha).
Then I saw Ada, who currently needs for your vote for the Clear Video contest (vote for her!), Tita Dine, my cyber mom and mentor, Marcelle, who invited everyone to watch the MAGIKEL show this November with Giselle Sanches, AJ, the hottest gay blogger in the Philippines, Azrael, who managed to do some livestreaming in the event, Annalyn Jusay, who is pretty in green last night,  Carl, who took lotsa pics and gave me two passes for the RTW show of the Philippine Fashion Week (yebbah!), Maki, my friend who drove from north to south (wut?! LOL), and more and more guests came in.
We ate dinner, introduced ourselves and our blogs, played games and toured around PAGCOR.
During the "introduce – yourself – and – your – blog – part", I promoted my blog and revealed that the Belo Medical Group has a corporate blog up and that we have ongoing promos for the holiday season.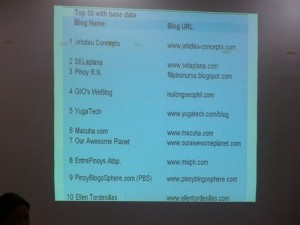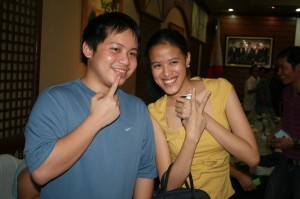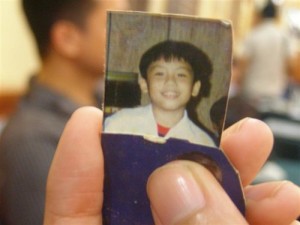 Magiging Top Blogger ako ng Pilipinas paglaki ko – Jehzeel Laurente 😛