BANGKOK is the main gateway to Thailand, Asia's top tourist destination. No wonder the Suvarnabhumi International Airport is always jampacked with tourists from all over the world.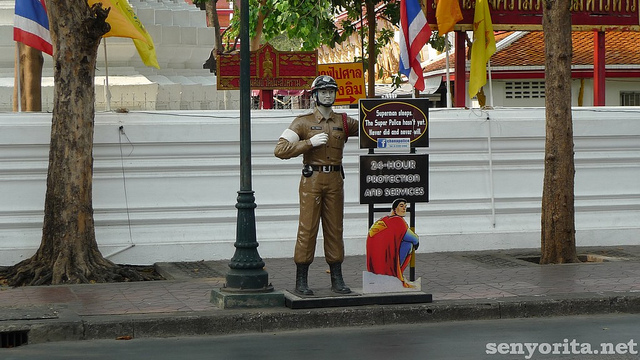 I've been to Thailand twice and for those who are wondering how to get to the main city from the airport, I am sharing ways via Train, Taxi or better yet via Car Rental!
MAIN CITY VIA TRAIN
From the Suvarnabhumi International Airport, the best way to go to the main city is via the Airport Rail Link. This is the newest train-path that connects Thailand's international airport to the Bangkok BTS and MRT and fare starts from 15baht.
Travellers can go directly to the first floor for the link's entrance. I highly recommend purchasing single-trip tickets or tokens for tourists from among the many automatic token dispensers in every station. These dispensers carry both Thai and English language so there is no need to be intimidated. Simply select the destination of your choice, the number of passengers and feed the money (accepts both coins and bills). Viola! You are now ready to conquer Bangkok!
Here are some of the few notes you should remember before taking the Airport Link. Service hours are from 6:00 AM to midnight. If your plane happens to arrive past midnight, then better resort to other forms of transportation.
Next, the passes you buy for the Airport Link is exclusively for their use. It is not compatible with the Skytrain or MRT. Finally, always remember that BTS and MRT stations are named differently, so you might need to bring a map of the trains just to be sure. For example, from the link, you want to get to Asok station. The easiest way would be alighting at Makkasan the transferring to MRT (Phetchaburi) to alight at Sukhumvit, which is Asok station in the BTS link. Therefore, do not be confused with the lines.
TAXI RULES:
One of the many fun things about Bangkok is the multitude of colors when it comes to their taxis. It ranges from the most common green and yellow to edgy ones like pink, red and orange. If you want to take the cab to your destination, it is very easy to hail one most especially in around malls, hotels or tourist spots.
When opting to ride a taxi, remember the following rules.
The flag down rate starts at 35 baht and works its way up at 2 baht for every kilometer. Make sure to ask your driver to switch on the meter to avoid negotiation. Just like in the urban centers, they also apply surcharge during traffic jams. And you know, that Bangkok is notorious for their traffic jams. So figure that out.
You can spot free taxis by checking the ones with the bright red vacant sign.
Flagging a taxi at a bus stop is acceptable only if there is no bus coming. If your tried to flag a cab seeing an approaching bus, you will be honked at. It is a bus stop after all.
Aside from the typical rates, you will encounter some difficulty in communicating with the taxi drivers as majority of them speak very little English.
Bring a map with you. Write down your destination or have it printed in Thai. DO not expect that all drivers know Bangkok like the palm of their hand. Make sure to also keep a copy of the hotel's calling card and map, just in case the driver have no idea where it is.
PRIVATE CAR
Probably the most hassle-free way to go around the city, most specifically when you are travelling with seniors and in a huge group is by hiring a private vehicle. You might think, isn't it expensive? No, definitely not, if you applied the concept of economies of scale. In layman's term – cheaper by the dozen. You get to split the cost of the entire vehicle with your tour mates and family. This saves you from spending additional fares from transferring to different stations and other types of transportation like the tuk-tuks or buses.
Aside from saving unnecessary transit cost, you can also save time by being dropped directly at your destination. No more stopping at every single station or bus stop. Finally, the last benefit of hiring a private car to go around is that it saves you the effort of carting around your heavy, bulky luggage. Travel is made easy –breezy!
Vehicles
SELLING PRICE
4 hrs.
8 hrs.
12 HRS.
Extra Hours
MINIBUS – Maximum 8 pax.
2,500.-
4,300.-
6,300.-
600
FAMILY VAN – Maximum 12 pax.
2,700.-
4,500.-
6,500.-
600
STANDARD CAR Maximum 3 pax.
2,000.-
3,700.-
5,800.-
600
(Price chart from: https://www.bangkokshuttle.com/homes/minibus_charter)
You might have the notion that airport transfers in Bangkok is complicated or dangerous, but it's not! Just keep an open mind and be realistic on which mode on transportation you're most comfortable with. Happy Trip!