March is the International Women's Month! As you've noticed, several companies and organizations have their ways of showing their appreciation to the important individuals, who made a significant impact in our lives.
It is fun to share that even the in-demand instant mobile messenger WeChat recently released some chat sticker characters that every woman can relate to. Whether you're the caring mother, the bubbly best friend or the independent woman in-charge, you'll be pleased with these cute images once they pop your mobile screen! These are available for download through the sticker shop.
Interested to know the interesting women of WeChat? Read on!
MISS SWEETNESS ALIVE
These are the women who shows nothing but love and kindness towards their family and friends. It reminds me of my mom who rarely complains about life and continues to inspire me to do better in life. I need a tight hug now for good vibes!
MISS LIVE WIRE
I can see myself and my girl friends in this category! Like what Beyonce says in one of her hit songs, the girls do run the world now! We are in-charge and we know what we want. we're determined to reach our goals career-wise but at the same time keep balance with our personal lives. Girl Power, baby!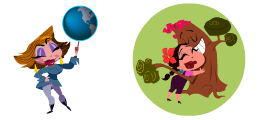 MISS ATLAS TROOPER
… and I can relate once again! Gone are the days when women were afraid to travel and explore on their own. Reading travel books is fun, but experience is still the best teacher. Miss Atlas Trooper surely knows the way to happiness!
MISS GET HAPPY
In need of positive vibes? You must have these women on your friends list! Being surrounded with happy and optimistic people will do you good. Not only will you feel light. It is good for your health and sanity too!
These female personalities of WeChat are cool, right? Can you think of a specific person while looking at each sticker? Use them and surprise a friend! Make her smile! 🙂
Got WeChat? Download the application through the official website http://www.wechat.com . Add me! 🙂