August is a healthy month from the Filipino films. If last week I wrote about the feel-good Star Cinema film The Reunion, I am about to write about Regal Films' Guni-Guni, which premiered in cinemas nationwide last Wednesday.
Days before its movie premiere, the people behind Guni-Guni experienced a lot of 'real-life horrors' particularly with the poster brouhaha and the so-called 'rift' between Mother Lily and Lovi Poe about a certain scene with Benjamin Alvez. I am not sure if this is part of their marketing strategy, but those are not really the reason why I want to watch this movie. Of course, Lovi Poe is the main reason. She is my current favorite actress and she never fails to impress me with her projects. Second, I would like to witness how Tara Illenberger (indie filmmaker/editor) will do as a mainstream director.
The opening scene of Guni-Guni is a good start. It reminded me of a friend who is afraid of being stuck in a dark place full of dolls. Technically, I love the cinematography. I love its dark theme, the creepy look of the house and the use of mirrors as metaphors. The film didn't fail to give the viewers a number of 'gulat' scenes, although I have to admit that it lack depth in some of the supposedly crucial scenes.
I don't want to give out as much spoilers, but I will just write my thoughts randomly.  I want to be as fair as possible. For your information, I haven't seen the Thai horror movie Alone nor the Vilma Santos starrer The Healing so I really can't compare it with this movie.
I can see the intention of Tara Illenberger in creating this film, although I am not really sure if the script is a victim of butchering to add a little 'mainstream' feel into it. It has so many sub-plots for every cast member. The build-up of every angle is good, but I cannot really sympathise with all the characters. There's this girl who had an abortion, but that was it. Gina Alajar is still longing for the presence of her dead son, but the reason on why her son chose to end his own life was not revealed. Even Neil Ryan Sese's character felt like an add-on just to say that 'hey, this indie actor can do mainstream films now!'. Isay Alvarez' character as the mom of Lovi Poe didn't gain any sympathy either.
Julia Clarete's scenes were remarkable as well as Gerald Pesigan. For a child actor, he did a great job playing the role of an autistic child through his hand gestures. The only character that is worth the attention is Jaime Fabregas since his fears were revealed on the last part. The presence of Empress Schuck's character as Joanna is understandable. Every girl needs a bestfriend, right? Add more spice with the third eye angle.
Now let's proceed to the lead characters. Lovi Poe is fantastic portraying Mylene/Myra. Did you know that Lovi was not the original choice for this film? Her performance in this movie is worth the appreciation. Her eye movements do say a lot. She is not 'overacting' (a.k.a. ang galing-galing-ko-umarte-bigyan-niyo-ako-ng- award-way). I didn't like how the so-called 'love scene' turned out. I expected more HAHA.
Benjamin Alvez did well as a first-time movie actor. I think he inherited his leading man appeal from his uncle Piolo Pascual. Given the right roles, I think he will be Regal Films newest bet for stardom after Paulo Avelino.
To cut it short, this movie has too many information. The build-ups were good and it will also make you think, but that's it. The presentation of the at the end failed to give the audience that 'ah, kaya pala' feeling. Not sure if the slow pace  of revelation to the most crucial scene is to blame or what.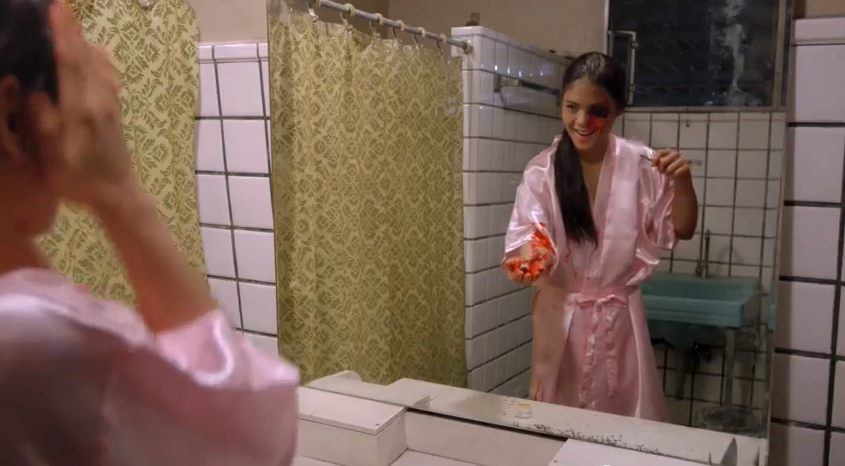 Tara Illenberger's first mainstream movie attempt is just right especially in the visual part. The performance of Lovi Poe, Gina Alajar, Jaime Fabregas made up to the slow pace in some parts of the storyline. I love the guilt and fear aspect of the movie. Will I recommend you to watch this film? I'd still say yes, but you have to think twice if you are suffering from Pediophobia.
Have you seen the movie Guni-Guni? What are your thoughts about it?