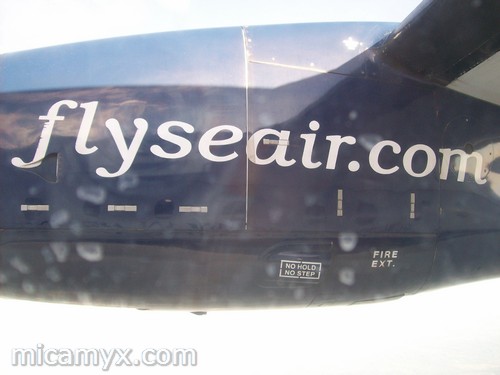 Two months ago, I went to Boracay with my grandparents and high school bestfriend. We got the chance to try a lot of activities like Snorkling and Reef Walking among others. Thanks to SEAIR for the round trip ticket to Manila and Caticlan.
Guess what? I am going back to Boracay sometime in September! I'll be going back with some of my blogger friends. We are going there because SEAIR increases flights to Caticlan! Want to learn more? Read on…
Southeast Asian Airlines, the country's premiere leisure airline, in response to increased demand, will be increasing flights to Caticlan to up to 32 flights per day. SEAIR presently has up to 18 flights a day to Caticlan, then stepping to up to 27 flights a day on August 14, and then to up to 32 flights a day on October 15 and onwards.
This is in line with SEAIR's mission of helping the Philippines' tourism development, especially tourism to the island of Boracay. SEAIR has been serving this route since 1995 and has the longest history of uninterrupted service to Boracay direct via Caticlan.
SEAIR's fleet of DO328's and LET410's have proven very good performance in short runways. "Our aircraft, the Dornier 328 and LET L-4110, are both capable of Short Take-Off and Landing (STOL). They are aerodynamically designed in a way that it is capable of landing and taking off in about 750 meters with full pay load. These aircraft are the most appropriate for small runways where bigger commercial airplanes cannot land," said Avelino Zapanta, SEAIR president.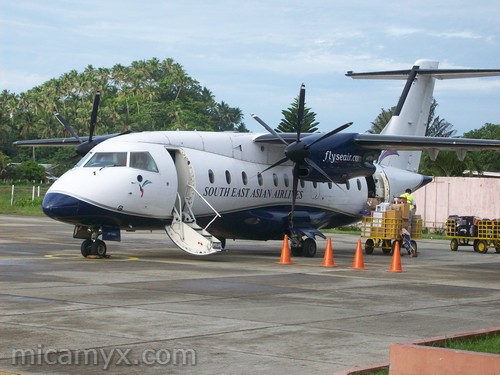 The Boracay experience is further enhanced with the SEAIR special service advantages for Caticlan-bound passengers. Travelers enjoy complimentary transfers from the Caticlan airport to Boracay and vice versa, the shortest queues and airport check-in procedures, the fastest baggage claims, and exclusive boarding pass privileges in partner establishments in Boracay and Manila. SEAIR offers the fastest flights to Boracay at just 35 minutes.
Caticlan is the gateway to one of the most celebrated tropical beaches in the world, Boracay. Tourists from all over the planet flock yearly to this lovely island paradise well- known for its four-kilometer stretch of powdery white sand and pristine crystal-clear waters. Aside from its natural beauty, Boracay offers visitors a variety of ways to enjoy the beach, from outdoor activities like snorkeling and windsurfing to more leisurely pursuits such as sampling the diverse culinary fare scattered on its beachfront.
SEAIR is the nation's second-oldest airline and has flown almost 3 million passengers to local destinations including El Nido, Puerto Princesa, Tablas (Romblon), Clark, Zamboanga, Jolo, and Tawi-tawi. The airline also offers flights from Boracay to Puerto Princesa and flies four times weekly to Basco, Batanes during the Batanes summer (June to August). SEAIR flies from Cebu to Caticlan starting August 7, 2009.
Fly SEAIR and rediscover the joy of flight – speed, convenience, personalized Service! Go to www.FlySeair.com for the best deals or call SEAIR Manila at (+632) 8490100 and SEAIR Cebu at (+6332) 2549337 to 38 for more information.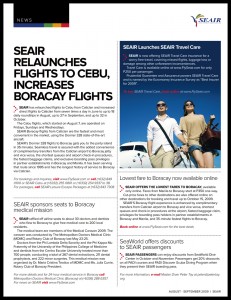 NOT ONLY THAT! SEAIR Also Relaunches Flights to Cebu! I am quite sure that our Cebu-based friends rejoices as they read this. For more information on the the latest SEAIR news and promos, just click the image above to enlarge. I am hoping though that they will have Manila to Cebu and Manila to Davao flight 😀