I remember clearly the night Jennylyn Mercado was proclaimed as the first ultimate female survivor of Starstruck, the reality-based artista search of GMA-7. I wanted her to win because for me, she is the most talented among her batch mates.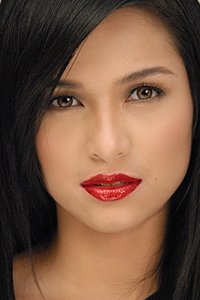 I remember buying her debut album called "Living The Dream" on May 15, 2004 – her birthday. I went to Nepo Mall Dagupan just to get my own copy that day and its the last copy available! There's an extra small purple Bambini Cologne enclosed with the CD. My favorite track in the album is "If I'm Not In Love With You", which is a duet with Janno Gibbs.
Fast forward to 2009 – Jennylyn is now 22 years old and is a mom to a very cute baby boy. She has a number of box-office movies mostly with her loveteam and ex-boyfriend Mark Herras, an afternoon drama show called Paano Ba Ang Mangarap? and three albums under GMA Records. Indeed, Jennylyn Mercado is STILL one of GMA-7's prized possession.
I am happy when a friend whom I met way back invited me to watch Jennylyn Mercado's birthday concert last May 14 as a belated birthday gift. It's my first time to enter Music Museum and my, the venue is jam-packed with Jennylyn Mercado loyalists and her line-up is just awesome!
Some of her guests include Christian Bautista, Richard Poon, Jay-R, Janno Gibbs, Ogie Alcadid and of course, Mark Herras. Here are some of the videos from the said concert:
Jennylyn Mercado singing "I'm Every Woman" – Intro song
"I'm every woman it's all in me" – Rock on Mommy Jen! 😀
Jennylyn Mercado singing Paano ba ang Mangarap?
This song is a very powerful song and it suits her voice. Reminds me of her Starstruck days.
Jennylyn Mercado with Jasmine F. singing Jai Ho
If i'm not mistaken, the girl is Becky Aguila's new talent and younger sister of an ex-PDA scholar.
Jennylyn Mercado and Christian Bautista singing Lucky
I am a big fan of Christian Bautista and I can see the chemistry between the two. Lucky is now one of my favorite duet songs ever. Jen and Xtian is Love 😛
Jennylyn Mercado and JayR singing Always
Jennylyn and JayR used to play the role of siblings in Love to Love where the former is paired with Mark Herras and the latter with Toni Gonzaga. Memories 😀
Jennylyn Mercado and Richard Poon singing Kahit Maputi na ang Buhok ko
Richard Poon revealed that this is the first time he performed with a Kapuso artist. Why not?! 😀
Jennylyn Mercado and Mark Herras singing Pagdating ng Panahon
Despite their separate offcam love lifes, the Mark-Jen loveteam is still loved by the fans.
Jennylyn Mercado and Janno Gibbs singing If I'm Not in Love With You and Moments of Love
Janno Gibbs found a new duet mate with Jennylyn Mercado. They also have their own version of Trisha Yearwood's How do I Live.
 
Seriously, I prefer Jennylyn Mercado as a singer than an actress. I would suggest her to make a duets album with these artists.
She ended the concert with a "scripted" birthday greeting. I just don't get it – why did she wear those big boots and korona while strumming her guitar at the finale?
All in all, i can say that the concert is successful despite the news that came out days before the concert. Jennylyn's afternoon soap opera is ending soon and she'll be seen with fellow Starstruck graduates Yasmien Kurdi and Nadine Samonte in SRO Cinemaserye presents Suspetsa. There are rumors coming out that she is set to play the role of Jodi in the Filipino version of Stairway to Heaven opposite Dingdong Dantes.
Let's keep out fingers crossed!
Thanks to Jennylyn Mercado's fans for the videos and to my special friend for the tickets 😛