I was invited last February for the launch of the Ipanema echo-chic Gisele Bündchen Seeds Collection. I remember watching the Philippine Ballet Theater members perform a very colorful presentation wearing the newest Ipanema flipflops. In the said event, the organizers announced that they have a joint project with Haribon Foundation called 'Walk a Green Mile".   
So I went to Le Souffle that hot Saturday afternoon and met up with some of my blogger friends who, like me, wanted to spend their weekend doing something really productive and at the same time, exercise LOL. I was there as early as 3:00 (though I thought I was late ). I saw a lot of volunteers and kids who are willing to walk  and contribute something for the Haribon Foundation.  
There was a short program wherein they gave us a background on the beneficiaries and we started walking at 5pm. It was nice seeing Ipanema lovers from age 5 and up walk and burn some calories for a cause 😛    
We had a short snack at Le Souffle. We also had a short Plurkfiesta at Cafeteria. I loved their Chicken Inasal! (will blog about it at Patay Gutom soon).
Later that night, I went straight to the Uno party at Martinis. RJ Ledesma was introduced as the new EIC of the magazine and Jayvee Fernandez as their online guy for the website. Hmmm.. It seems like I've seen their names in the editorial section of another men's magazine last year 😛 I saw some female celebrities like Karen Pamintuan, Grace Lee and the lovely Heart Evangelista. It's nice to see good friends there especially Kuya Peter, whom I rarely see these days (I can still see the i.ph logo on his face LOL)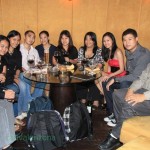 I have a friend in Dagupan who is an avid fan of the magazine. I remember how he complained about the delayed release of some of their issues last year (I remember him ranting about purchasing the Iwa Moto cover by mid February though the issue was intended for January-February 2008). With the new set of editorial members, I am hoping they can do something about this matter para tuluyan na silang maging numero uno 😀
All in all, I had a very happy Saturday. How will I end this post?
Hmmm…
End 😛
Thanks to Tita Jane, Ate Aileen and Carl for the photos.