We all know that February 14 is Valentine's day. Usually, couples do have a romantic date somewhere and those who have quarrels do kiss and make-up.
What about the individuals who are not in a relationship as the moment? What should they do on this day? Stay home and watch romantic DVDs? Sleep for 14 hours and eat 7 meals? Go online and plurk and plurk until your karma reaches 100?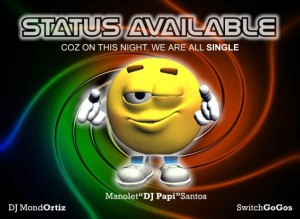 Nah. Don't do that. February 14 is also known as the "Single Awareness Day". It is the day wherein one must appreciate the fact that he/she is single and is still ready to mingle with other unaattached people out there.
If I were you, I will attend the STATUS: AVAILABLE Party hosted by Ex-Ang TV Kid TJ Cruz. Ticket price for singles is Php 300. I heard that couples can still attend but they have to pay Php 500 per head.
For more details, read below:
Imagine this. A club night packed with SINGLES. No one "in a relationship" or even "its complicated" and most even "married".

Everyone you see around is available and free.




We SINGLES hate the thought that Valentines Day is unfair to us since it is only for the lovers out there, but on this night, it will be the other way around.

On this night, there will be none of those BS speed dating games, match making, or any soiree type of program.

It will just be one insane night of clubbing bliss where you are very sure that the person beside you is SINGLE. You are free to mingle, introduce yourself, drink, dance, exchange numbers, without even having to entertain the thought if the person is taken.

It is a night for us SINGLES! This will be one SINGLES night that you will never forget. You will love yourself for being SINGLE!

Everyone is AVAILABLE and FREE, well, still negotiable but it is all up to you. On February 14, 2009, we celebrate being SINGLE and AVAILABLE!

 

SEE YOU ALL AT WAREHOUSE 135!

Featuring DJs
MANOLET "DJ PAPI" SANTOS
MOND ORTIZ

With the dancing prowess of the
SWITCH GOGOS

Hosted by: TJ Cruz
Produced by ZURC MAFIA