Just last month, a number of bloggers were invited at the  Philips Go Gear event at Bonifacio High Street. Aside from the games and presentation of the newest techy gadgets, a number of bands played much to the delight of the guests. One of the bands who made that event very memorable is the indie band Techy Romantics. I am not really familiar with the band until I saw them perform onstage. Their sound reminds me of The Cardigans (Erase/Rewind, Grand Turismo, Lovefool).
The other night, I was lucky to meet Dondi Virrey, the one in-charge with the samples and keys. Thanks to our common friend Chiko Lara. I later on found out a few information regarding the indie band which will soon invade the music scene.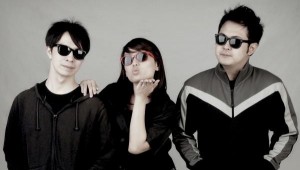 The Techy Romantics are composed of Camyl Besinga, Ryan Villena, and Dondi Virrey. The group was formed June 2008. Their music is clearly based on the magic of electronica, there isn't a hint of contrivance here. Beats begin breathing, guitars come a-stirring, vocals creep in, and then the songs, they just come alive. There's just this powerful surge of energy that nobody can resist.
I found some videos of their live performance during the Philips Go Gear event:
Techy Romantics – Photos Fade (Live)
"Photos Fade, so does your face" – Aw.
Techy Romantics- Walking Away (Live)
Techy Romantics – Run (Live)
Love their music? You can add them up at Facebook or MySpace for sample tracks and schedule of their gigs. My personal favorite is Tonight We Fly 😀
I'm planning of catching them live on Thursday for the Friday Night Fusion event. Want to join us? Tara! 😀