Yesterday, I scanned through my i.PH blog and read some of the entries I wrote way back in April 2007. It is the month when I went to Manila from Dagupan for two reasons: My On-the-Job training at SVI and iBlog3.
As a newbie to blog events, I was really excited to the fact that I am going to UP and learn more about blogging. I learned that a blogger can actually venture into different niches and even earn money from it. The fact that I'll be meeting some of the authors of the blogs I'm reading added to the excitement of the Dagupena dreamer.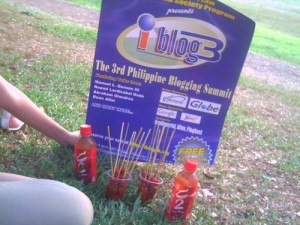 At iBlog3, I was with Gee, one of the bloggers I met thru a game we were in years ago. I met my cyber mom in the persona of Tita Dine. It was also in that summit where I met Cai and Louis, two of my closest friends today.
"Sa Dagupan ka pa galing? Ang layo ah" Louis said who is carrying a big backpack.
"Oo. Kahapon lang ako dumating. Excited nga ako eh" I replied.
"Wow, pare-pareho pala tayong nagbblog sa i.ph? Ang saya naman!" I told them in a shy manner.
"Oo naman.. Mas maraming i.ph bloggers last year kasi nagsponsor din sila" Cai, who was wearing a long skirt and bakya said.
We became good cyber friends even if I went back to Dagupan. We were struggling students who are finding ways of earning extra money from online gigs.

I want to thank Sasha for introducing me to Cai and Louis. Asan ka na ba? hehe. I also met my favorite humor blogger named Billycoy Dacuycuy, who turned out to be sensitive and serious in real life. Akala ko kasi parang tambay lang LOL.
At iBlog4, I met more bloggers in person and some of them are Benj Espina, who became my online friend through a game and the person who introduced me to BlogToProfit, Rommel and Jeric, my co-virtual housemates (Wehehe),  Maki Eduardo, the girl behind NoNeed4ink that eventually became my real life sissy, Angel, Jeff and Fritz, whom we later tagged as the Sagada Boys (hehehe), The Boys of Man Blog like Ade, Bim and Peter, who turned out to be really nice (haha sorry for the wrong impression LOL), AJ Matela, the hottest gay blogger whom one of my female blogger friends had a big crush on and my partner for the Blogging 101 talk on May 9 and of course, Ms. Janette Toral who had been supportive to newbie bloggers like me. I met more bloggers and you all know who you are 😛
So what is my point here? iBlog5 is a very important event for bloggers especially the newbies because this is the chance for everyone to meet the rest without any hesitations or whatsoever. I should know – I was once like them.
iBlog5: The Philippine Blogging Summit will be on May 9, Saturday at the Malcolm Theater, UP College of Law, UP Diliman from 8am to 5pm. There's an afterparty where you can mingle with other bloggers. The admission is free but you have to register now since the seats are limited.
Morning session: 
9:00 – 9:20 Blogging 101 (Micaela Rodriguez & AJ Matela)
9:30 – 9:50 Photo Blogging 101 (Faith Salazar and Fritz Tentativa)
10:00 – 10:15 Break
10:15 to 10:35 Video Blogging 101 (Azrael Coladilla)
10:45 – 11:05 Mobile Blogging 101 (Edwin "Ka Edong" Soriano)
11:15 – 11:35 Do's and Don'ts of Blogging 101 (Benj Espina and Juned Sonido)
11:45 – 12:05 Blog Promotion & Traffic Generation Strategies 101 (Winston Almendras and Coy Caballes)
12:05 – 1:00 Lunch break
Afternoon session:
1:00 – 1:20 Legal issues in Blogging
1:30 – 2:30 Preparing Bloggers for the 2010 Elections
– COMELEC on Blogging & Bloggers (Dir. James Jimenez, COMELEC-EID Director)
– Citizen Journalism for the 2010 Elections (Oliver Robillo, NAMFREL Chairman – Davao City)
– The Bloggers Election Handbook project release (Janette Toral)
2:40 – 3:30 Blog Advertising Situation in the Philippines (Yehey and 2 sponsors)
3:30 – 3:45 Break
3:45 – 4:45 Blogging to the Next Level (Fitz Villafuerte 
4:45 – 5:00 Raffle & Group picture taking
7:00 pm onwards After-Event Party (sponsored)
PS: Found out that Jollibee is one of the sponsors. Sana may mascot na dumating! 😀 See you there! 🙂