Destination matters most when planning a vacation. Usually, this means considering what actual city or town you're visiting, and what there is to do there. But what if you're just in the mood to relax, and want to do it away from home? What if you don't want an active or busy vacation, but just a chance to get away and relax a little bit? In cases like these, the hotel itself can be the most important consideration, and the idea of "destination" can be narrowed somewhat.
Naturally there are awesome hotels all over the world, some affordable and some over-the-top expensive. Rather than just focusing on the so-called best hotels though, we're going to focus on an enhanced experience through surroundings. Specifically, we're looking at some of the North American hotels that happen to have the best views. They can make for lazy, relaxing vacations that are all the better.
Mandarin Oriental – New York City, United States
New York always sounds like a busy, almost hectic place to vacation, and it certainly can be. The city has a way of draining one's energy more or less automatically. However, if you're thinking of New York from a standpoint of luxury hotels, it can be a different experience altogether. High-rise hotels in the city can be incredibly luxurious, and put you up in arguably the world's most famous skyline. Among such hotels, none can match the views from the Mandarin Oriental, which towers over Colombus Circle at the lower west corner of Central Park. The views of upper midtown Manhattan, the park itself, and the buildings along the famous Fifth Avenue across the park, are absolutely amazing. And even if you decide to venture out, you're in one of the more relaxing parts of Manhattan. There's plenty to do in Central Park without ever really venturing into the concrete jungle comprised of streets and buildings.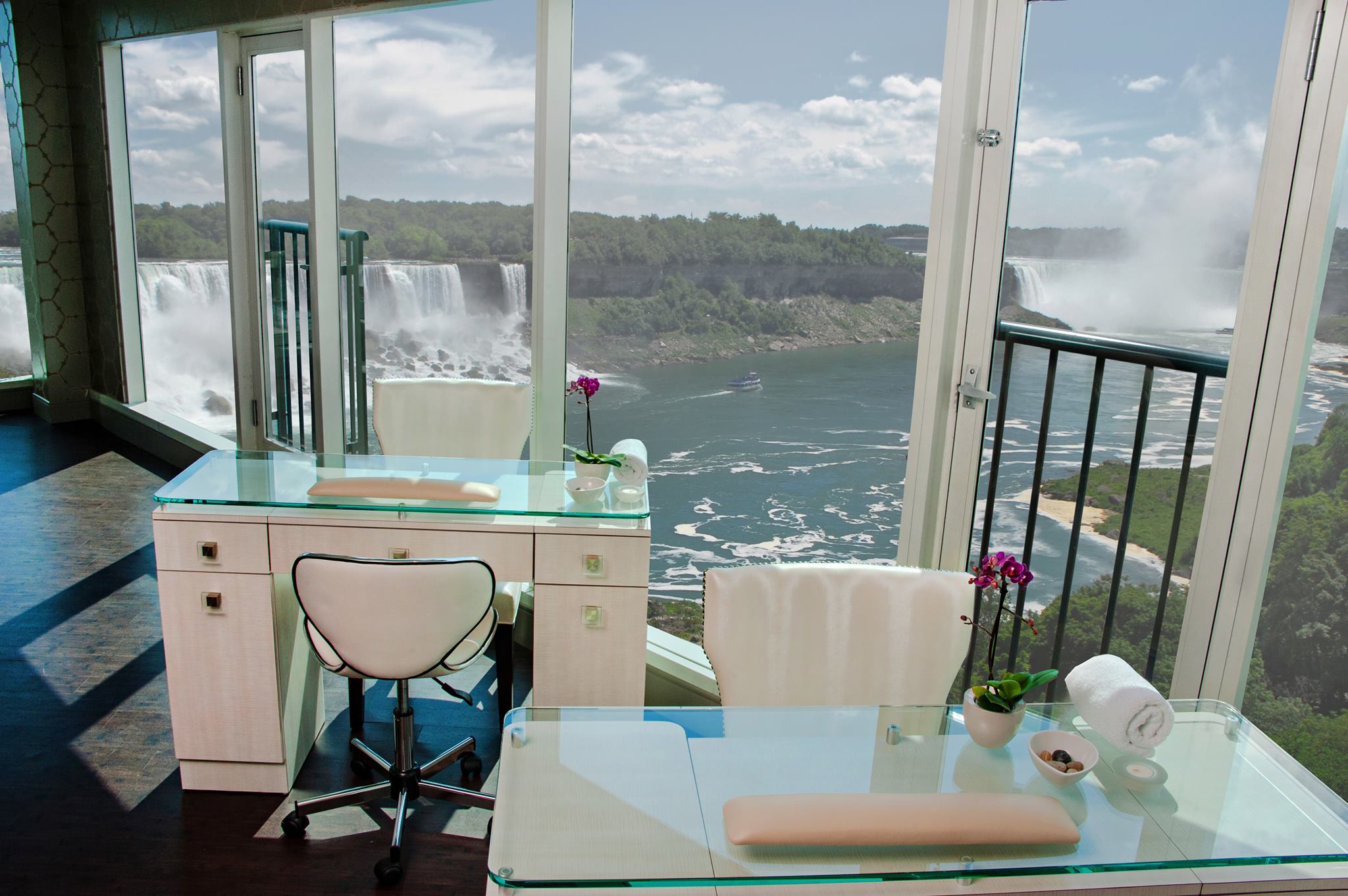 Sheraton On The Falls Hotel – Niagara Falls, Canada
The Sheraton On The Falls Hotel at Niagara Falls – on the Canadian side of the border, to be clear – is a bit less glamorous than a place like the Mandarin Oriental, but tough to beat when it comes to the views. There are views, both from rooms and public dining areas, that directly look out over Niagara Falls itself, meaning you can quite literally wake up to a vision of one of the world's most famous waterfalls. The hotel is more or less fully equipped to handle a lazy vacation, though you can of course go out to tour the falls, either on foot or by boat, at any point. Additionally, the hotel is in close proximity to the Canada-side casino, which is a fairly major draw and also a calm, casual way of getting some recreation. Many Americans will even cross the border just to play games online with some of the popular games available in the UK having spread to Canada by now, where it's also legal to play with real money. But the casino itself is a surprisingly charming venue, and a nice way to break up time spent lounging about with your beautiful views.
Many Glacier Hotel – Glacier National Park, United States
Maybe more than any other hotel discussed here, this one screams "beautiful view" with its name alone. Glacier National Park is located in Montana and is essentially a 1,500-square mile expanse of striking scenery. Many Glacier Hotel is right in the thick of it, not perched on some roost as one might imagine, but rather in a valley and seated at the edge of Swiftcurrent Lake. The hotel is designed as a sort of lodge or chalet, and really it's all about the lake and its mountainous, otherworldly surroundings. There's in-house dining, but all in all the place is fairly light on attractions. It's set up as more of a retreat, where you can catch your breath for a few days and relax in what can rightly be called one of the prettiest places in all of the United States.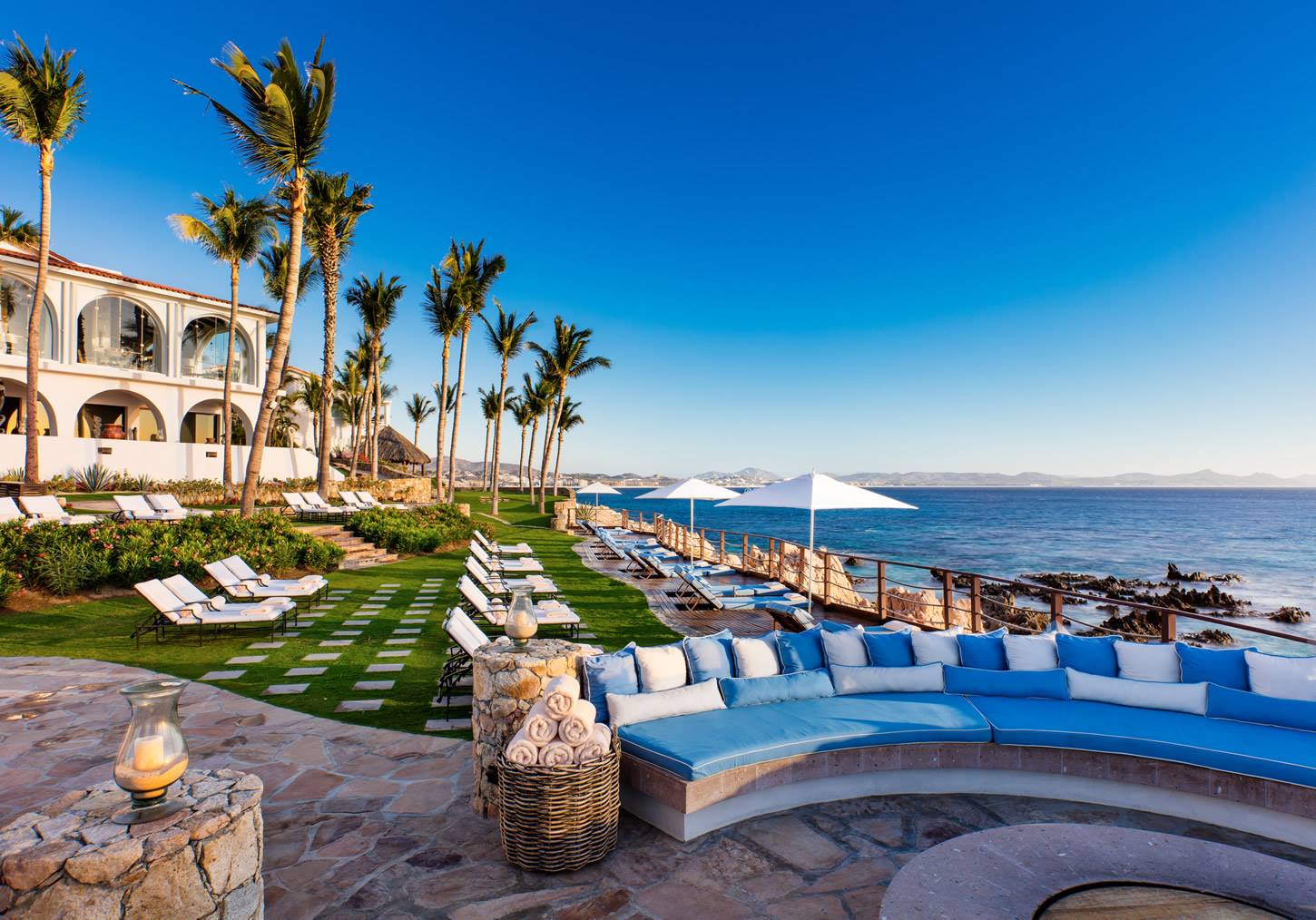 One & Only Palmilla – Las Cabos, Mexico
Mexico has enough beautiful and relaxing resorts to support a whole list like this one on its own, but if we're picking just one, the One & Only Palmilla in Las Cabos is as good a choice as any. The location itself is somewhat fascinating, on the southern tip of the Baja peninsula on the Pacific side of Mexico. And the resort is a nice contrast to some of the more famous and touristy resorts of the mainland. The One & Only Palmilla is all about beauty and relaxation. The rooms give off a light and breezy image but are still equipped with luxurious furnishings. The views are of palm trees and blue seas. And the grounds include gorgeous, glass-like pool surfaces set up right alongside a private stretch of white-sand beach. Open air dining and a hotel spa facility also contribute to the relaxing atmosphere, such that all you really need to do is hang out.
Grand Canyon Lodge North Rim – Grand Canyon, United States
The North Rim of the Grand Canyon offers some of the most stunning views on planet Earth, and this lodge-style hotel is ideally suited to take full advantage of. It's a little bit difficult to visit the Grand Canyon without at least a little bit of physical activity, but then you don't necessarily have to go on a hike. Mule rides into the canyon are actually quite popular, and help you to get up close and personal with the awe-inspiring natural wonder. However, for the most part, you may just want to relax at the lodge. Luxurious but somewhat simple, it's all about embracing the peace and tranquility that comes with looking out over the canyon. There's really nothing quite like it, and no better place to do it.